PETROPAVLOVSK-KAMCHATSKY, October 18 (RIA Novosti) - Eurasia's highest volcano, Klyuchevskoy, on the Kamchatka Peninsula in Russia's Far East, churned out ash to a height of 10 kilometers (6.2 miles) on Friday morning, local Emergencies Ministry's department reported.
"The cloud of ash travelled a distance of 200 kilometers [124 miles] to the southwest of the volcano," the department said adding that showers of ash were reported in two local villages.
The statement warned all tourism companies working in the region against holding tours in the areas located near the volcano and advised all air carriers operating in the region to select alternative routes.
© RIA Novosti
Inside a volcanic eruption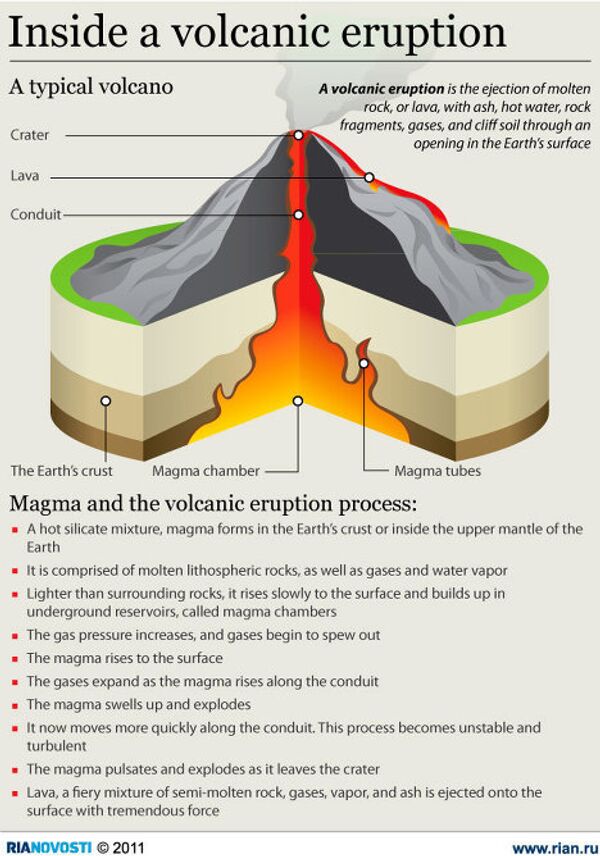 Inside a volcanic eruption
The volcano's most powerful eruption was registered between January and May of 2005. Following that eruption, the volcano "sank" by 50 meters (about 165 feet), from 4,800 meters (about 16,000 feet) to the current 4,750 meters (15,845 feet).
There are more than 150 volcanoes on Kamchatka and up to 30 of them are active.