Instead of modern army gear, warehouses belonging to the Ukrainian Defense Ministry are packed with all sorts of things which are of no use to servicemen.
"We found a lot of interesting stuff – nine million buttons, a pile of sacks and boxes, several thousand pairs of female panties, old-styles leather volleyballs and many other things of peculiar use…and this is at warehouses belonging to the Defense Ministry," the Ukrainian media quotes the country's Presidential Counselor and Assistant Minister of Defense, Yuri Biryukov, as saying.
Biryukov said that only one of the five Ukrainian Defense Ministry provision centers has been inspected.
© Photo : Social networks
Olga Znachkova at Maidan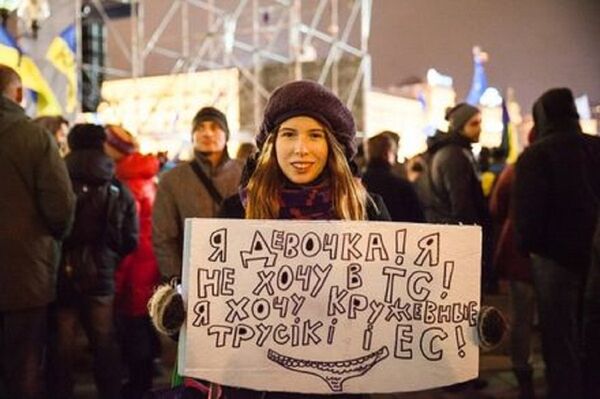 Olga Znachkova at Maidan
© Photo : Social networks
His announcement sounded only more ironic when President Poroshenko announced in April that Ukraine's army is one of the five strongest in Europe thanks to the battlefield experience brought on by the start of the country's war a year ago.
Interestingly enough, a demand for lace panties was one of the most well-remembered during the early days of the Euromaidan protests.
In the autumn of 2013 one of the young ladies came out in the street with a banner saying that she did not want to be part of the Customs (Eurasian) Union; she wanted lace panties and to be part of the EU.
This protest followed a proposed Russian Ministry of Industry and trade ban on lace panties within the Customs Union.
The ban was supposed to outlaw any underwear containing less than 6% cotton from being imported, made, or sold in Russia, Belarus and Kazakhstan.