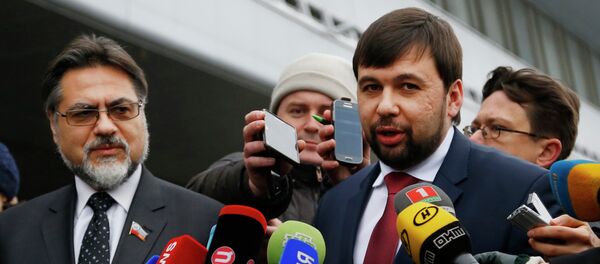 The restoration of water supplying facilities in the self-proclaimed Lugansk People's Republic which were damaged in shelling by Kiev forces may be funded by Germany, Vladislav Deinego, LPR representative to the contact group, said.
"We made a list of water supplying facilities related to the Western filter plant which will be restored. The money allocated by Germany could be used to partially restore the facilities and resume water supply to several towns of the LPR and DPR [self-proclaimed Donetsk People's Republic]," Deinego pointed out.
He also said that the initiative has been supported by representatives of the OSCE Special Monitoring Mission. Now the self-proclaimed republic is waiting for authorization from the Ukrainian government.
In April 2014, Kiev launched an offensive against Donbass residents who opposed the new coup-installed government. According to recent UN data, nearly 6,500 people were killed in the conflict. The settlement to the crisis has actively been discussed, including by the contact group in Minsk, Belarus.