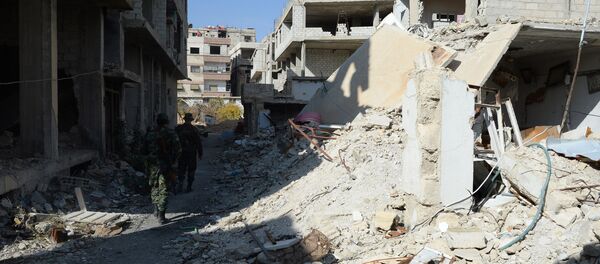 24 November 2015, 09:02 GMT
RT reporters Sargon Hadaya and Roman Kosarev, cameraman Alexander Zhukov and TASS correspondent Alexander Yelistratov came under fire on November 23 on their way to Dagmashliya, a Syrian town some 20 kilometers from the Turkish border.
One TOW guided antitank missile went off right next to the car the Russian reporters were traveling in, wounding Khadaya, Zhukov and Yelistratov, and leaving Kosarev shell-shocked.
A video titled "Jihadists Launch TOW at Journalists" was uploaded online. It shows a group of Syrian insurgents firing a US-made TOW anti-tank system. RT correspondent Roman Kosarev recognized the area and himself trying to escape from the danger.
Experts confirmed that a booster found at the scene is the same as the booster used by the rebels in the video.
"The landscape is very very reminiscent of the one when we came under fire from militants just a few days ago, on November 23," Kosarev told RT. "And actually you can see people running for cover at a distance and I'm pretty sure it must have been us. And that person running in the back must be me."
According to journalists' comments on their return to Russia, their car was shelled by the Syrian opposition forces. Soon after the incident, the correspondents were threatened over the Internet – Syrian militants posted their photos on the Internet with appeals to "KILL THEM".
A TOW, US-made anti-tank weapon, has a range of more than 4 kilometres and has been covertly supplied to Syrian opposition groups since 2014.
"It is clearly an American weapon system. It is consistent, that lettering, with the TOW system," security analyst and former counter-terrorism intelligence officer Charles Shoebridge told RT commenting on the photo and video evidence. "And indeed it has been openly supplied by the US and indeed by US allies in the region, particularly Saudi Arabia to rebel groups. So therefore it would not at all be surprising to find this weapon system in the hands of the rebel groups and being used by them."
Hundreds of TOW systems have been spotted in the hands of different rebel groups in Syria.
Moreover, a TOW system was used in the attack on the grounded Russian Mi-8 helicopter that participated in the operation to rescue the survived pilot of the Su-24 bomber shot down by Turkey on November 24, a former senior security policy analyst in the office of the US Secretary of Defense Michael Maloof told RT.
"In the case of Syria [TOWs] have been supplied clandestinely under CIA operation through Turkey to various fighters that they have identified as being moderate. But these moderates are generally with the Free Syrian Army, and most of them have gone to join the Islamic fighters of either Al-Nusra or Daesh [ISIL]."