"If the Turkish vessel was expected to do certain requirements, which had to be fulfilled at that time and it didn't perform them, then we [Russia] shouldn't hold back and act according to laws prescribed by things for which we're here for, that's it," Kalashnikov said.
According to Kalashnikov, such actions only aggravate the overall relationship between Russia and Turkey, which is already tense at the moment.
Earlier today the crew of Russia's "Smetlivy" destroyer was forced to use firearms to prevent a collision with a Turkish seiner vessel in the northern part of the Aegean Sea, according to Russia's Ministry of Defense.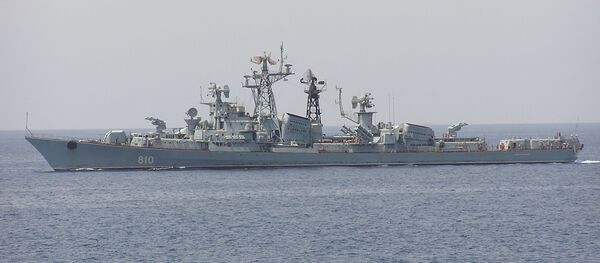 13 December 2015, 11:46 GMT
The destoyer's crew spotted an approaching Turkish ship at a distance of approximately one kilometer (0.6 miles). The seiner did not attempt to establish radio contact with the Russian ship and did not respond to signal lamps or flairs.
Upon the Turkish seiner's dangerously close approach to the anchored "Smetlivy" at a distance of 600 meters (656 yards), the Russian patrol ship fired a shot beyond the hitting range of the firearms to avoid collision.
According to the Russian Defense Ministry, the Turkish vessel immediately changed its course and, without contacting the Russian crew, kept moving by the "Smetlivy" destroyer at a distance of 540 meters (590 yards).
Following the incident, a military attaché at the Turkish embassy in Moscow was urgently summoned to the Russian Defense Ministry by Deputy Defense Minister Anatoly Antonov.
The incident comes amid Russian-Turkish tensions following the downing of a Russian Su-24 bomber by the Turkish Air Force over Syria on November 24.