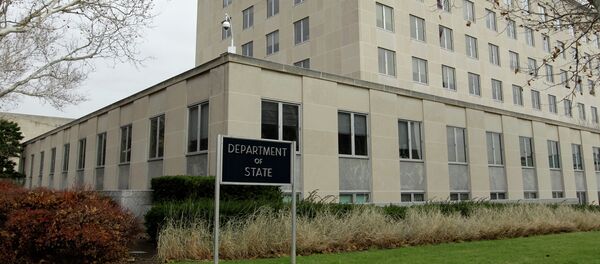 28 February 2016, 19:01 GMT
MOSCOW (Sputnik) — Russian Foreign Minister Sergei Lavrov and US State Secretary John Kerry exchanged their views on implementation of ceasefire in Syria and confirmed importance of close military coordination, Russian Foreign Ministry said in a statement.
On February 22, Russia and the United States reached an agreement on the ceasefire in Syria. According to the Moscow and Washington's joint statement, the ceasefire was to take effect on February 27 and excluded the terrorist groups Islamic State (Daesh) and the Nusra Front (both outlawed in Russia).
"The interlocutors have exchanged their estimates of the implementation of the ceasefire in Syria, confirming the importance of close military coordination between our countries as co-chairs of the International Syria Support Group," the statement published on the ministry's Facebook account said Sunday.
The statement added that unconfirmed provocative information on Syria ceasefire violations must not appear in media.
Syria has been mired in civil war since 2011, with forces loyal to President Bashar Assad fighting against a number of opposition factions and extremist groups. The international community, including Russia and the United States, has been making efforts to settle the crisis.
The UN Security Council unanimously adopted a resolution endorsing the Russia-US agreement on the cessation of hostilities in Syria on Friday, shortly before the ceasefire came into force.