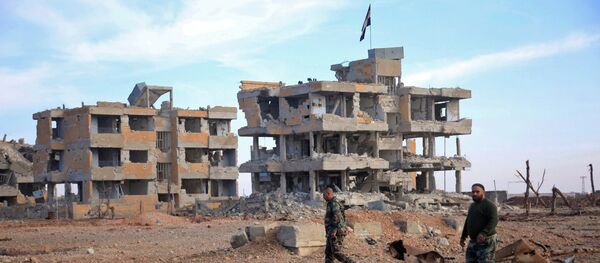 ALEPPO (Syria) (Sputnik) — About 40
Wahhabi preachers
from Saudi Arabia arrived in war-torn Syria in order to convince local militants to fight during
the holy month of Ramadan
, the head of one of the settlements in Syria's Aleppo province said.
"Some 40 Wahhabi preachers — graduates of specific educational institutions located in… northwestern Saudi Arabia — arrived in the region of Aleppo and eastern Qalamoun in the vicinity of Damascus… Saudi preachers arrived with a mission to convince Nusra Front terrorists, as well as [militants] from Ahrar ash-Sham and Jaish al-Islam, who consider themselves part of opposition, that the limitations imposed on Muslims during Ramadan do not extend to jihad," the settlement head said.
He added that the militants plan to conduct a number of terror attacks and to capture several strategic positions controlled by Damascus.
Syria has been mired in civil war since 2011, with government forces loyal to Syrian President Bashar Assad fighting numerous opposition factions and militant groups, such as Daesh (ISIL/ISIS) and Nusra Front, which is outlawed in many countries, including Russia.
Ramadan is the ninth month of the Islamic calendar; this year it will runs from June 6 to July 5; Muslims observe the holiday by fasting during the daytime. Itis considered a time for spiritual reflection and increased devotion.