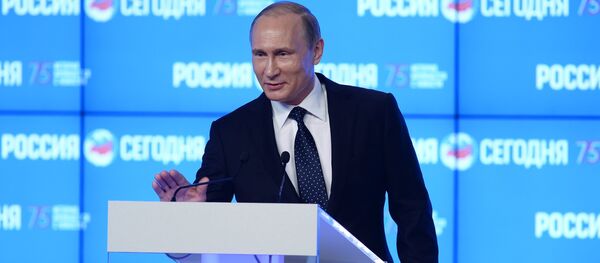 MOSCOW (Sputnik) — Russian Foreign Minister Sergei Lavrov on Thursday congratulated the Rossiya Segodnya International Information Agency with the 75th Anniversary of the Soviet Information Bureau (Sovinformburo), from which it had originated.
"For us, the Soviet Information Bureau – and then [its successors] the APN [Novosti Press Agency], the Rossiya Segodnya international news agency – have been a unique source of information on Russia. For diplomats, it is very important to have such an asset in the form of a truthful, factual, well-presented information about their country," Lavrov told Rossiya Segodnya International Information Agency.
The Soviet Information Bureau was created on June 24, 1941, just two days after the start of the Great Patriotic War, and was intended as a tool of anti-fascist propaganda and a source of news on the course of the unfolding events in countries supporting the Soviet Union.
"As I see it, the current generation of journalists wants to preserve and strengthen these traditions and to enhance the prestige of their profession and the agency. We see how selflessly they carry on the traditions of their predecessors, those who walked the roads of the Great Patriotic War with their notebooks and Leica cameras," Lavrov pointed out.
Rossiya Segodnya is an international media group, whose mission is to cover world events in a prompt, balanced, and unbiased manner, and provide alternative views on global issues. It combines radio broadcasts and newswires in English, Russian, Spanish, Arabic and Chinese, with news websites in dozens of languages, also producing and distributing photo and video content and infographics, information products in social media, and content for mobile apps.