"It's a highly emotional issue between the two countries here," Bradley tells Loud & Clear host Brian Becker.
The case, brought against China by the Philippines, alleges that Beijing has encroached on Manila's territorial waters in the South China Sea. The escalation of the dispute has been heavily driven by the interests of the United States.
"Why did the Philippines agree to bilateral talks and then request international adjudication? I think the answer to that lies in the [US] State Department. The Philippines, with some exceptional periods, has been a very cooperative client of the United States," Lawrence says.
"This has to do with America's desire for hegemony – we [the United States] are simply not going to let go of that: military hegemony and the primacy of the neoliberal economic order."
While Washington frequently accuses Beijing of being an aggressor, it consistently ignores the United States' own fraught history in the South Pacific.
"When you look at who's militarizing what, just go to Laos. One-third of the country, you still can't walk around. There are colour-coded sidewalks. You know, don't walk off the sidewalk, there might be an American bomb still there. One-third of the country they still can't farm," Bradley says, describing the undetonated ordnance that still litters the country, decades after the Vietnam War.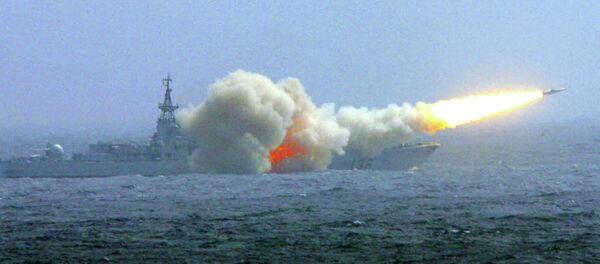 "Every day, the New York Times has an interactive feature on its website. You can look at these Chinese islands they're building in unbelievable detail, supplied by the United States military. But you've got to go outside the major media to see the 1,000 American bases ringing the globe."
In the legal case against China, the United States cites the United Nations Convention on the Law of the Sea. But the US has refused to ratify that agreement.
"Suddenly, the United States is standing on international law. It's a sheer opportunity, that's all there is to it," Lawrence says. "We [the US] have no grounds whatsoever. We surrendered all claims long, long ago to any prudence or rectitude in international law. We have nothing to stand on.
"I think the only people who are fooled by this are Americans."

A highly-contested region through which nearly $5 trillion in trade passes annually, most of the South China Sea is claimed by China, though there are overlapping claims by the Philippines, Brunei, Taiwan, Vietnam, and Malaysia.
The United States has no territorial claims in the region, and while the Pentagon's military buildup in the South China Sea may be aimed at stopping China's rise, Beijing will likely continue to grow in influence.
"I see China as much more stable. I don't buy into these themes that China is an aggressor that we need to worry about," Bradley says. "I don't buy into these themes that we Westerners should speculate about how China's going to change."