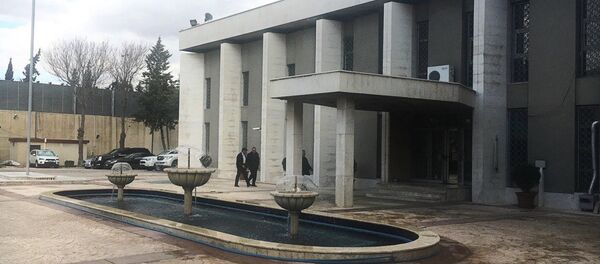 4 October 2016, 10:25 GMT
UNITED NATIONS (Sputnik) — The United States blocked at the United Nations Security Council Russia's statement on the shelling of its embassy in Damascus, Syria that took place on Monday, the representative of Russia's Permanent Mission to the United Nations told RIA Novosti.
"[The statement] was actually blocked by the US delegation, which tried to add extraneous elements in a standard in such cases text," the permanent mission statement said.
"The British and Ukrainians clumsily played up to the Americans. It demonstrates their blatant disrespect for the Vienna Convention of Diplomatic Relations," the statement added.
On October 4, the Russian Foreign Ministry reported the shelling of the Russian embassy in Damascus on Monday. One of the mines exploded near a residential complex on the territory of the embassy but none of its staff was hurt.
According to the ministry statement, the embassy was shelled from the Jobar municipality controlled by Jabhat Fateh al-Sham (formerly known as al-Nusra Front) and Faylaq al-Rahman militant groups.
On October 3, US State Department announced in a press release that Washington was cutting off participation in bilateral channels with Russia on sustaining a ceasefire agreement in Syria, which was reached by the two countries in September.