"In shaping our response [to Daesh], we refused to repeat some of the mistakes of the 2003 invasion [of Iraq] that have helped to give rise to the organization that became ISIL in the first place," Obama said during a major speech on the fight against terrorism at MacDill Air Force base in Florida on Tuesday.
He added that, instead of  going it alone against the terrorist group, the United States focused on supporting local forces in Iraq and eventually built an international coalition of nearly 70 nations, including some of Iraq's neighbors.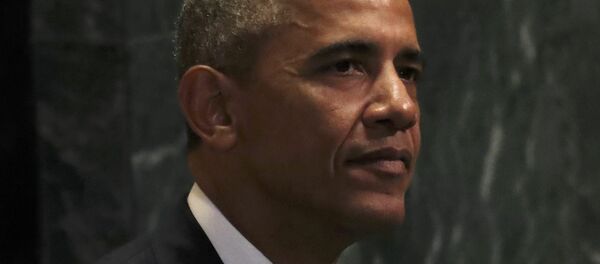 6 December 2016, 20:58 GMT
"And then we took the fight to ISIL in both Iraq and Syria, not with American battalions but with local forces backed by our equipment and our advisors and, importantly, our Special Forces. In that campaign, we have now hit ISIL with over 16,000 airstrikes," Obama stated.
"And today, the results are clear: ISIL has lost more than half its territory. ISIL has lost control of major population centers. Its morale is plummeting <…> and local populations are turning against it," he added.
Barack Obama said that even though the terrorists claim to fight on behalf of Islam, the ongoing fight against the scourge of terrorism should not be viewed as a fight against one specific religion.
"If we act like this is a war between the United States and Islam, we're not just going to lose more Americans to terrorist attacks, but we'll also lose sight of the very principles we claim to defend," Obama noted in an obvious nod to President-elect Trump who will be taking office in January.
During his presidential campaign Donald Trump consistently criticized Muslims and pledged to ban them from entering the US. This has led to a notable spike in the number of xenophobic attacks across the country.
Trump had repeatedly accused Barack Obama of having had a hand in the emergence of Daesh.
"In many respects, you know, they honor President Obama," Mr. Trump told a rowdy crowd of supporters while on the stump in  Florida in August. 
"He's the founder of ISIS. I would say the co-founder would be crooked Hillary Clinton," he added.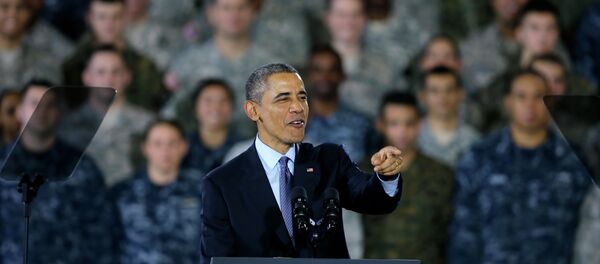 7 December 2016, 12:05 GMT
Not to be outdone, Hillary Clinton fired back calling Trump one of the "best recruiters" for Daesh after the Republican hopeful proposed a ban on Muslims entering the United States.
In an October 2016 interview with Komsomolskaya Pravda Syrian President Bashar Assad said that "Daesh was created in Iraq under the watchful eye of the US" and that "Americans have directly and indirectly assisted in creating Daesh."
In November 2014 Russian journalist-turned-MP Alexei Pushkov blamed the US for complicity in creating Daesh.
"The Islamic State [Daesh] didn't emerge all by itself, it is the result of a consistent effort by a number of US-allied Gulf monarchies and of the United States itself which, hell-bent on ousting Bashar Assad, was dishing out money to just about everyone," Pushkov said.