"Right now [at At Tanf] preparations are being made by US special services in coordination with Daesh (ISIS)* in the region to stage a provocation identical to the kind that took place in Douma," Kazem said. "Kurds, including women and children, are being prepared for the false flag operation," he added.
Kazem thinks there is an 'extremely strong' probability for the provocation to be carried out. "It is being prepared with the goal of causing a collision between the Kurds and the Syrian army," he said.
On Monday, Russian Defense Ministry spokesman Igor Konashenkov said that the ministry has received information from numerous sources that Free Syrian Army militants and US special operations forces were preparing a false flag attack involving the use of poisonous substances in the eastern Syrian region of Deir ez-Zor.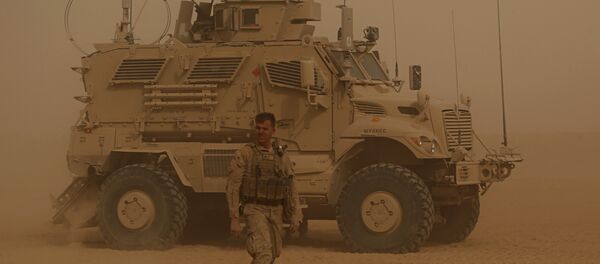 The US, the UK and France launched a missile strike against Syria in April after what they claimed was a chemical attack in Douma, Eastern Ghouta. Damascus and Moscow condemned the attack, and pointed out that the tripartite had offered no substantive evidence that a chemical attack actually took place.
The United States occupies a 54 km zone around its military base at At-Tanf, where it trains and equips Syrian armed opposition forces. The situation at the nearby US-controlled Rukban refugee camp has been called a "humanitarian disaster," and is estimated to contain upwards of 60,000 refugees. The Russian defense ministry has accused al-Tanf of "spewing ISIS mobile groups who make inroads to launch subversive terrorist operations against Syrian troops and civilians."
*A terrorist group banned in Russia and many other countries.