A dramatic video has emerged on YouTube, showing illegal African immigrants reaching the coast of Spain and immediately encountering chaos.
A group of nearly 30 people on an inflatable boat, apparently coming from Morocco through the Strait of Gibraltar, is filmed sailing towards the nudist beach of Tarifa near the Spanish port of Algeciras. After being approached by a coast guard boat, they disembark and run towards the wood line in a bid to get away from the police.
According to the Daily Mail, nearly 1,600 migrants reached Spain shores this week, with Algeciras becoming one the main destination points for African immigrants coming to Europe.
Nude sunbathers in Tarifa had no time to cover up as a boatload of Moroccan migrants made landfall yesterday and ran from guards
JON NAZCA/REUTERS pic.twitter.com/Kfld9cuDOs

— Mo Lindt (@MoLindt) 28 июля 2018 г.
On Wednesday, Algeciras Mayor José Ignacio Landaluce called for assistance as the number of this week's arrivals in his town surged to 1,000.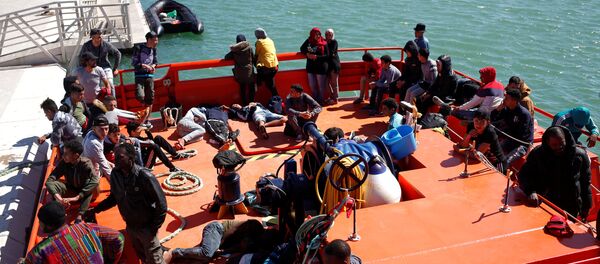 This comes after Italy's newly-appointed Interior Minister Matteo Salvini, an outspoken advocate of hardline immigration policy, last month barred refugee ships from Italian ports. In the latest incident, Aquarius, an NGO-operated rescue vessel, was forced to dock in a Spanish port after Malta also turned the ship away.