DAMASCUS (Sputnik) — Last month, Cameron alleged that there were around 70,000 Syrian opposition fighters who did not belong to any extremist group operating in the country.
"Let me be frank and blunt about this. This is a new episode in a long series of David Cameron's classical farce, to be very frank. This is not acceptable. Where are they? Where are the 70 thousand moderates that he is talking about? That is what they always talk about: moderate groups in Syria. This is a farce based on offering the public factoids instead of facts," Assad told The Sunday Times newspaper.
Assad reminded that since Moscow launched its counterterrorism campaign in September it had been asking for their locations from the US-led coalition, but did not receive a response.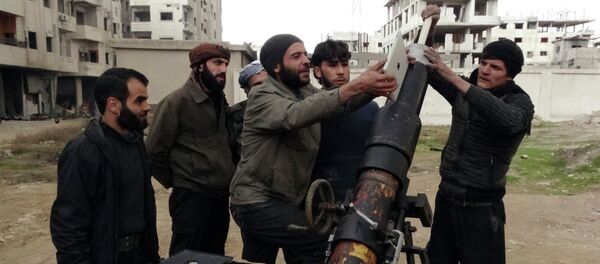 26 October 2015, 14:08 GMT
"Actually, since the beginning of the conflict in Syria, there were no moderate militants in Syria. All of them were extremists… That is not accepted anywhere in this world; and there is no 70 thousand, there is no 7 thousand, he does not have, maybe now ten of those," Assad stressed.
Syria has been mired in a civil war since 2011, with the army loyal to Assad fighting against several opposition factions and numerous militant groups.
The West, not considering Assad to be the legitimate authority in Syria, has been supporting the opposition groups it believes to be moderate.