Russia has called on Turkey to provide access to NATO's Incirlik Air Base, the critical launch pad for US and coalition airstrikes in Syria, in a bid to expand the country's influence in the Middle East and to further the goal of combatting radical jihadist groups, primarily Daesh and al-Nusra, that threaten peace and stability in Syria.
The base is home to at least 50 US B-61 nuclear warheads each carrying the potential destructive capacity of 100 times the Hiroshima bomb, a reality that led to heightened concern among American officials during, and in the wake of, the failed coup attempt of the Erdogan regime.
Sitting only 65 miles from the Syrian border, defense analysts, including the former White House arms control official under Bill Clinton, have cautioned that these weapons are not safe from the Daesh terrorist organization and other hostile elements who could conceivably breach the perimeter if Americans are left unaided by Turkish police forces.
That fear likely grew more elevated as Turkey has drifted towards Russia in the wake of the coup with senior officials, including the Turkish President himself, insinuating if not outright claiming that the United States played a hand in the failed attempt to overthrow the government and with a brewing diplomatic row developing between Washington and Ankara over the State Department's refusal to clear the extradition of Fethullah Gulen, who has been alleged to have been the mastermind of the failed coup.
The brewing situation between the United States and Russia have opened the door for the reestablishment of relations between Moscow and Ankara including increased defense and strategic cooperation in Syria.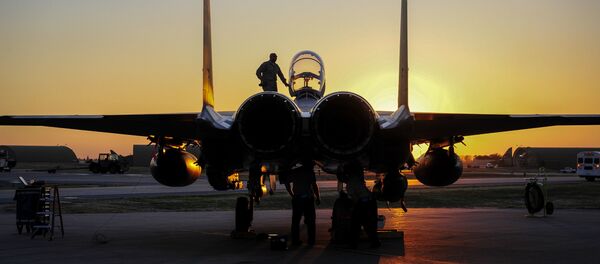 18 August 2016, 09:31 GMT
"It just remains to come to an agreement with Erdogan that we get the NATO base Incirlik as [our] primary airbase," Senator Igor Morozov, a member of the upper house's committee on international affairs said reports the British newspaper The Times. He explained that the development would enable the Russian air force to engage in "constant bombing" of Daesh and other jihadist groups to bring the conflict to a resolution faster.
"You'll see, the next base will be Incirlik," he told Izvestia after the Kremlin revealed this week that its bombers had started flying out of Iran to launch attack on Syria. "This will be one more victory for Putin."
Another Senator, Viktor Ozerov, told RIA Novosti, "It's not certain that Russia needs Incirlik, but such a decision would be seen as a real willingness on Turkey's part to cooperate with Russia in the war against terrorism in Syria."