The Syrian army has discovered where the White Helmets, an organization that claims to be made up of humanitarian workers and has been repeatedly blamed for creating fake propaganda against Syrian President Bashar al-Assad, have been filming their videos, according to Fars News.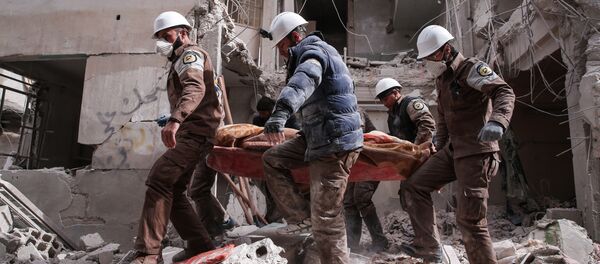 According to the report, the place is located in the small town of Saqba in Eastern Ghouta. The army personnel reportedly also discovered cameras and film production equipment left at the site.
On Sunday, the Russian Ministry of Defense denied reports of an alleged chemical bomb being dropped on Douma, also in Eastern Ghouta, suggesting that a number of Western states as well as NGOs like the White Helmets have turned to such claims, which it called "another fake," in order to "undermine the achieved ceasefire."
"We strongly deny these claims and announce our readiness to send Russian experts in radiation, chemical and biological defense to Douma after its liberation from terrorists to gather evidence, which would prove that the allegations of chemical weapons use was staged," said Major General Yuri Yevtushenko, commander of the Russian Center for Syria Reconciliation.
The Syrian government has repeatedly denied using chemical weapons during the war, saying it "doesn't need such measures to stop the terrorists," Fars reports.
"The chemical fabrications, which did not serve the terrorists and their sponsors in Aleppo and Eastern Ghouta, will not serve them today either, as the Syrian state is determined to end terrorism in every square inch of Syrian territory," reads the Syrian government's statement on the alleged Douma chemical attack.
Several media outlets have cited militants in Syria accusing the authorities in Damascus of using chemical weapons in Douma, with Jaysh al-Islam claiming that government forces dropped a chemical bomb in Eastern Ghouta.
One month before the incident, though, the Russian Ministry of Defense issued a statement saying it had reliable information about a false flag chemical attack being prepared by US military instructors.
"We have reliable information at our disposal that US instructors have trained a number of militant groups in the vicinity of the town of At-Tanf to stage provocations involving chemical warfare agents in southern Syria," Russian General Staff spokesman General Sergey Rudskoy said at a news briefing in March.
"They are preparing a series of chemical munitions explosions. This will be used to blame government forces. The components to produce chemical munitions have been already delivered to the southern de-escalation zone under the guise of humanitarian convoys of a number of NGOs," he said.