The Syrian Foreign Ministry has accused the US-Led Coalition of violating international law and killing civilians in a letter to the UN, saying that the US is not fighting terrorism in Syria, SANA reported.
Damascus has urged the UN to launch an investigation into a recent deadly airstrike carried out by the US-led coalition on As-Sousa and Al-Bubadran in the eastern province of Deir Ez-Zor, where 62 people were killed and dozens injured, the state-run news agency SANA reported.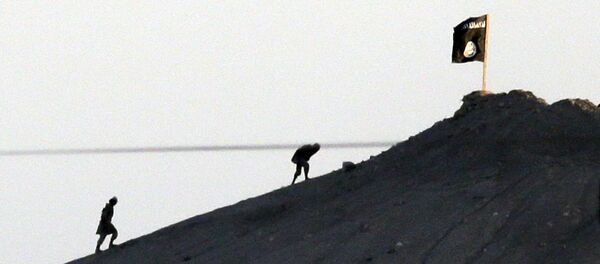 15 October 2018, 19:18 GMT
The Syrian outlet cited its sources as saying the Western coalition was using scorched-earth tactics in the region by targeting homes and places of worship along with Islamist positions.
The reported strike is the second US-led coalition attack this month that has allegedly resulted in the deaths of civilians. On October 18, a Syrian military source told Sputnik that the coalition had carried out a series of airstrikes on civilian homes in the Syrian province of Deir Ez-Zor. The broadcaster, however, did not specify the exact number of civilians, who had been killed or wounded due to the strike.
READ MORE: Two US Coalition Fighter Jets Mistakenly Struck Kurdish Unit in Syria — Source
Shortly before that, the coalition reportedly struck the town of Hajin in Deir Ez-Zor province using banned white phosphorus. Commenting on the reports, the Pentagon told Sputnik that all weapons that are being used in the Syrian campaign comply with the Law of Armed Conflict.
The strikes took place amid the tense situation in the region. Thus, Russian President Vladimir Putin said earlier that Daesh* terrorists had recently begun expanding their presence on the left bank of the Euphrates river in Syria, taking nearly 700 people hostage, including citizens of the United States and European countries.
READ MORE: Foreign Citizens Among Hostages Kept by Daesh in Syria's Hajin Area — Source
*Daesh (also known as ISIS/ISIL/IS) is a terrorist group banned in Russia