WASHINGTON, March 28 (RIA Novosti) - The United States expressed concern Thursday that a series of raids on nongovernmental organizations (NGOs) in Russia could become a "witch hunt."
"The United States is deeply concerned by the unprecedented wave of inspections on nongovernmental organizations and civil society groups across Russia," State Department spokeswoman Victoria Nuland told a news briefing Thursday.
The crackdown "appears to be aimed at undermining civil society" in Russia, and the US ambassador to Russia, Michael McFaul, has met with officials in Moscow in recent days to make Washington's views on the issue known, Nuland added.
As many as 2,000 NGOs across Russia have been raided by prosecutors and other officials in the past month. Many NGO activists have complained of unexpected and time-consuming raids, and activists have condemned the inspections as a form of intimidation.
Most observers have linked the raids to a new law that tightens control on NGOs and obliges those that receive foreign funding to register as "foreign agents."
© RIA Novosti
What Changes Lie in Store for Non-Profit Organizations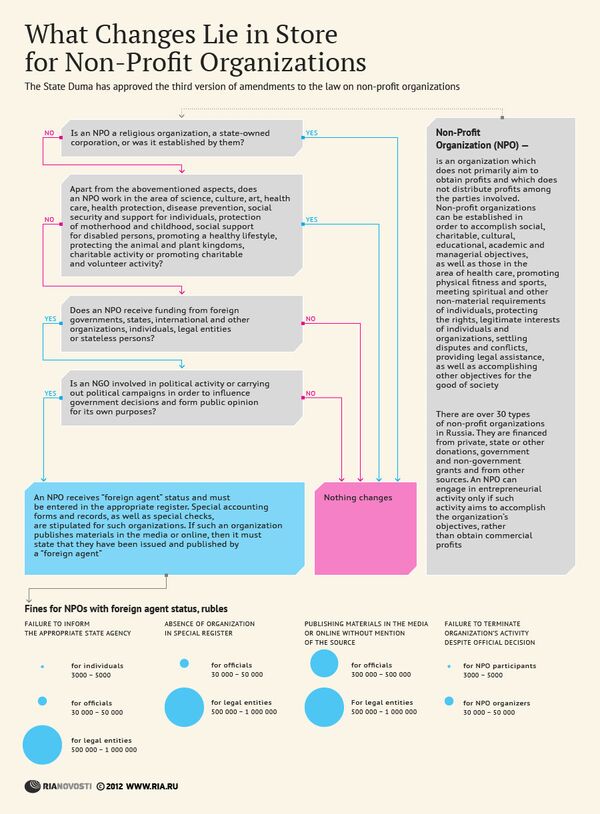 What Changes Lie in Store for Non-Profit Organizations
Russia's Prosecutor General's Office said Thursday that the inspections are part of efforts to ensure compliance with anti-extremism laws and combat the legalization of illegal income.
But Nuland said the raids "have put considerable restrictions" on funding and are "taking Russian democracy in the wrong direction."
"The sheer scope of these inspections, which target not just NGOs but also civil organizations like religious and educational institutions … really gives us concern that this is some kind of a witch hunt," Nuland said.
Russian President Vladimir Putin said Thursday that the Kremlin's human rights ombudsman, Vladimir Lukin, should monitor the raids to ensure there were no "excesses" by officials carrying out the spot checks.