MOSCOW, April 1 (RIA Novosti) - A third Project 955 Borey-class nuclear-powered strategic submarine will start trials in the White Sea in June, United Shipbuilding Corporation President Andrei Dyachkov said on Monday.
The Vladimir Monomakh was floated out last December and is due to enter service in 2014.
The first Project 955 Borey-class submarine, the Yury Dolgoruky, was commissioned into the Northern Fleet in January, and the second, the Alexander Nevsky, will be handed over to the Russian Navy by the end of the year, a Navy official told RIA Novosti last Friday.
© Sputnik
Yury Dolgoruky Strategic Nuclear Submarine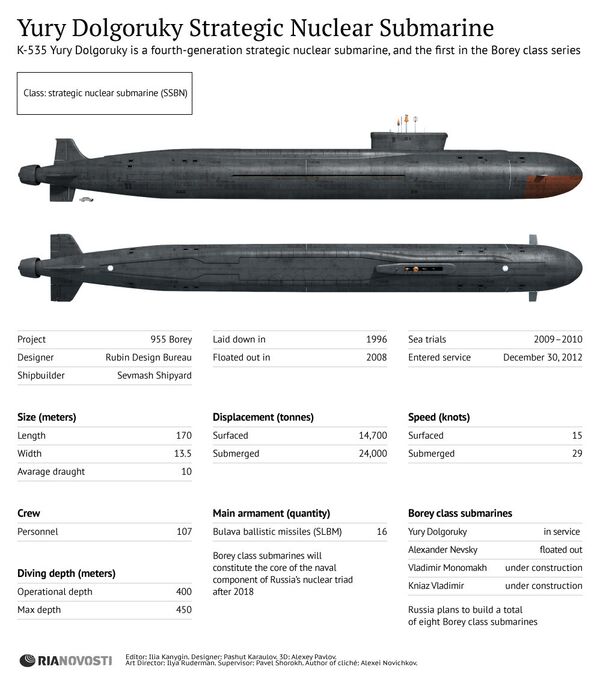 Yury Dolgoruky Strategic Nuclear Submarine
The Alexander Nevsky has been undergoing trials at the Sevmash shipyard since 2012. There will be three sea trials this year and a Bulava ballistic missile will be test-launched from the submarine in the summer, the official said.
The first three vessels in the Borey series are capable of carrying 16 Bulava submarine-launched ballistic missiles.
A total of eight Borey-class submarines are to be built for the Russian Navy by 2020.
Sevmash will start construction this year of two upgraded Borey class Project 955A submarines - the Alexander Suvorov and the Mikhail Kutuzov - capable of carrying 20 ballistic missiles each.
Borey class submarines are to become the mainstay of the navy's strategic nuclear deterrent, replacing the ageing Project 941 (NATO Typhoon class) and Project 667 class (Delta-3 and Delta-4) boats.