The main building of the Russian Academy of Theater Arts was still smoldering, but the rumors had already started.
"Someone just couldn't keep their hands off the academy's land!" alumni weighed in balefully on Twitter, Facebook and VKontakte, a Russian social network. "It's a conspiracy to relocate our beloved school to the middle of nowhere!"
© RIA Novosti
Natalia Antonova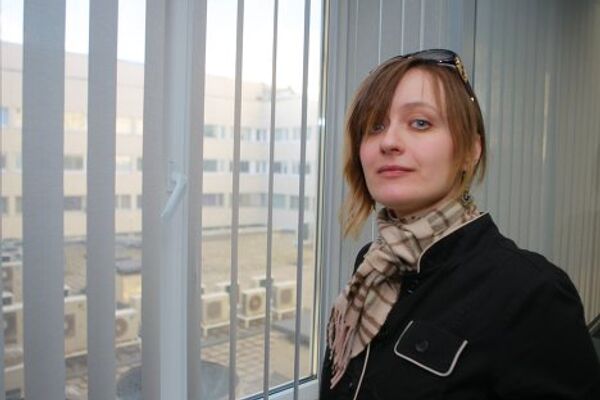 Natalia Antonova
Last week's fire was certainly devastating to RATI (which is still commonly referred to by its Soviet name, GITIS) – which happens to be both my husband's alma mater and the biggest theater school in Russia – and it was also indicative of the general level of fear and mistrust that surrounds issues of expensive real estate in Moscow.
It's true that RATI's main building sits on some choice land in downtown Moscow. It's located on a quiet street in an upscale neighborhood, within walking distance to the Kremlin.
As emotional as its alumni have been (theater people are generally emotional – I can say that, because I am a theater person, though not by education), their immediate desire to allege a conspiracy is perfectly justified. In the past, suspicious fires have frequently been used as a means of taking over a particular building or plot of land.
This was how the Actors House on Pushkin Square was done away with, for example. Nowadays, it houses a symbol of Russian capitalism gone wild, a.k.a. an upscale shopping center.
This is the legacy of an unregulated and booming real estate market. Even as we refer to the 1990s as a "wild decade," we must note that when it comes to Moscow real estate, the 1990s never went away. If anything, prices have only gone up, and the stakes appear high as ever.
Recall Baz Luhrmann's "Australia," an overcooked yet visually stunning musical that involves a genteel English lady (Nicole Kidman) being forced to sell her late husband's cattle station by her greedy neighbors. This is the drama that is being played out on the Moscow real estate market over and over again, only it's much less attractive to behold and there is no Hugh Jackman riding to the rescue in tight pants.
As if to illustrate the fact that the theater academy graduates were on to something, another real estate drama erupted in downtown Moscow over the weekend. Arkhnadzor activists, dedicated to preserving the capital's historic buildings, reported that the main building of a mansion commonly known as the Bolkonsky House was being demolished – yet again. Previous attempts to demolish the building have been unsuccessful.
The mansion once belonged to the uncle of Leo Tolstoy, Nikolay Volkonsky, who served as the prototype of Duke Bolkonsky in "War and Peace." Tolstoy frequently hung out there (well, if you can imagine an intense figure such as Tolstoy "hanging out" anywhere).
According to Arkhnadzor, the mansion was taken off the list of cultural heritage buildings in Moscow for no discernible reason. Worse yet, Arkhnadzor activists blame people in President Vladimir Putin's inner circle for trying to destroy the building.
Meanwhile, the official reason for the fire at RATI was said to have been an electrical short. And the water used by the firefighters apparently caused even more damage than the fire itself, or so the academy's president said last Friday. Media reports repeatedly claimed that there were serious fire code violations at RATI, which had yet to be addressed when the building went up in flames. None of this exactly quelled the tide of speculation, which is not surprising.
The public has simply overdosed on real estate conspiracies. Everyone knows someone who has been bilked out of an apartment or otherwise stiffed by a shady real estate firm. Every other person seems to know someone who was threatened, or even killed, in the course of a real estate deal.
These individual dramas add up to a tragedy of Shakespearian proportions of which the fire at the academy is just another symbol – and for now, there doesn't seem to be an end in sight. 
Trendwatching in Russia is an extreme sport: if you're not dodging champagne corks at weddings, you're busy avoiding getting trampled by spike heels on public transportation. Thankfully, due to an amazing combination of masochism and bravado, I will do it for you while you read all about it from the safety of your living room.
Natalia Antonova is the acting editor-in-chief of The Moscow News. She also works as a playwright – her work has been featured at the Lyubimovka Festival in Moscow and Gogolfest in Kiev, Ukraine. She was born in Ukraine, but spent most of her life in the United States. She graduated from Duke University, where she majored in English and Slavic Literature. Before coming to Moscow, she worked in Dubai, UAE and Amman, Jordan. Her writing has been featured in The Guardian, Foreign Policy, Russia Profile, AlterNet, et al.
Trendwatcher: Cyprus Bailout: March Madness for Russia's Rich
Trendwatcher: When Being a Middle-Aged Russian Man Is a Death Sentence
Trendwatcher: In (Grudging) Praise of Moscow's Awesomely Rude Salespeople
Trendwatcher: Rebel Dzhigurda Does the Harlem Shake in Moscow
Trendwatcher: Of Blonds, Corruption and Poetry
Trendwatcher: the Mountain of the Dead Is Still Alive
Trendwatcher: Migrants in Moscow Break Jaws and Make Peace
Trendwatcher: Meanwhile in Russia, a Tank Crossed the Road
Trendwatcher: Acid Attack on Bolshoi Director Has Terrifying Implications