COLORADO SPRINGS, April 2 (By Carl Schreck for RIA Novosti) – It was still dark outside when Jessica Long ambled into the Olympic aquatic center on a recent morning wearing a pastel one-piece swimsuit and gray knee pads to shield the stumps of her legs from the poolside concrete.
One earbud was tucked into place as she fiddled with her iPod. The other dangled below her shoulders alongside her blonde hair, leaving her right ear to absorb her teammates' muffled small talk in the cavernous swim hall here at the foot of the Rocky Mountains.
Long's soundtrack that morning was lighter fare than the Eminem and Lil Wayne she blasted in her formative years. These days, the mellower oeuvres of indie bands like Mumford & Sons and Imagine Dragons provide the necessary motivation for her pre-dawn workouts at the US Olympic Training Center in this sleepy town 6,000 feet (1,829 meters) above sea level.
Long, who at 21 has become arguably the most dominant Paralympic swimmer of her generation, is not a morning person. And the shrill yelps of her fellow swimmers as they hit the water were not exactly encouraging.
"That pool is not warm, especially during the winter," Long told RIA Novosti in an interview at the Olympic training complex. "When it's cold outside, it's even colder. So I need something to kind of get me excited to jump in the pool."
© Photo : Bob Pearson /
US Paralympic swimmer Jessica Long taking a poolside break during practice at the US Olympic Training Center in Colorado Springs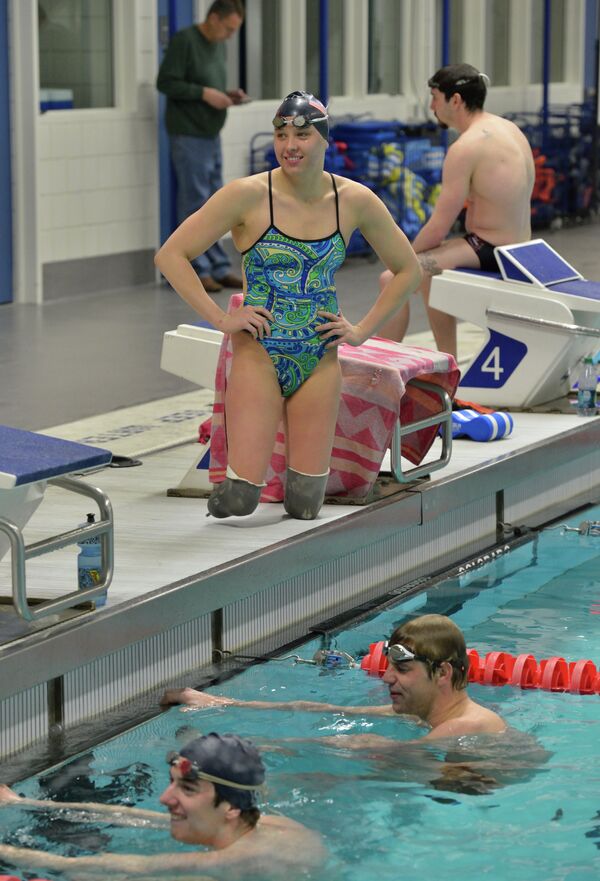 US Paralympic swimmer Jessica Long taking a poolside break during practice at the US Olympic Training Center in Colorado Springs
Aversion to cold might seem out of place for a young woman born deep in Siberia. Long spent the first 13 months of her life in an Irkutsk orphanage, where she was placed after doctors encouraged her teenage parents to give her up rather than try to raise a child born without lower leg bones.
Two decades later, armed with a handful of rudimentary Russian phrases and a lifetime of wondering, Long is preparing to return to Russia for the first time since she was adopted by a Baltimore couple to meet the biological family that until last year she never knew she had.
From Bratsk to Baltimore
Jessica Long was born Tatyana Olegovna Kirillova on February 29, 1992—a Leap Year baby—to an 18-year-old mother and a 17-year-old father in the remote industrial Siberian city of Bratsk. Born with fibular hemimelia, a congenital absence of lower-leg bones, she became a ward of the Russian state after her biological parents concluded they were unable to care for her.
"I was alone in Siberia, my mother and father weren't around," Long's biological mother, Natalya Kirillova, said on a nationally broadcast Russian talk show last year. "I didn't know where I would go if I would take her home."
Kirillova gave birth to a second daughter, Anastasia, a year later, after which she said she went to the Irkutsk orphanage where Long was living intent on bringing her child home. It was too late. The girl had been adopted by Steve and Beth Long, a Baltimore couple and the parents of two biological children.
The Longs wanted more children, but doctors told them they would not be able to have any more of their own.
"We were hoping to adopt children with physical disabilities," Steve Long told RIA Novosti. "We thought we could provide a good home and work with them to be fully productive in their lives."
The Longs adopted another Russian child, Joshua, with a cleft lip and palate at the same orphanage. The doctors' assessment of their reproductive capabilities proved imprecise: The couple went on to have two more children, bringing their brood to six.
"There was never a dull moment in my house," Jessica Long said. "I mean, even to this day there's always something going on."
© Photo : JessicaLong.com
Jessica Long playing in the pool as a toddler in Baltimore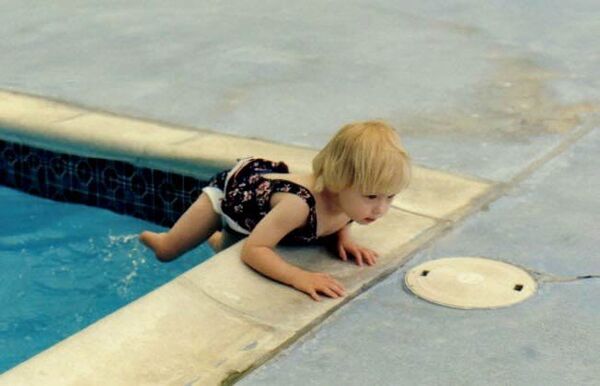 Jessica Long playing in the pool as a toddler in Baltimore
© Photo : JessicaLong.com
The remnants of Long's malformed lower legs were attached just below her knees, making it difficult for her to wear prostheses. Doctors in the United States amputated her lower legs when she was 18 months old, and within two weeks she was moving around on artificial legs—albeit with a walker at first.
"It was always so natural to me," Long said. "It was just like putting on a pair of shoes. … It's just like wearing tall high heels."
An irrepressibly active and competitive child, Long bounced around the family's home like the Tasmanian Devil on a Red Bull binge.
"I used to do somersaults and flips all around the house," Long said. "We had a trampoline, I would do backflips, and I would climb on top of the refrigerator and the bannister. I was always climbing on everything."
To focus this energy, Long's adoptive parents enrolled her in gymnastics when she was six years old. She enjoyed the sport, which did not require her to wear prosthetics, but it was not easy on her knees.
When she turned 10, her parents said that if she wanted to continue, she would have to do so while wearing her artificial legs, which had a penchant for popping out at inopportune times—including once on a ski lift.
"At 10 years old I'm thinking, 'There is no way I want to be on the balance beam on these stilts … doing flips and whatnot,'" she recalled. "So we decided to find a sport that I could do without wearing my legs and still be active."
Mermaid Dreams
For as long as she can remember Jessica Long was drawn to the water.
After church on Sundays, Long and her family would go to her grandparents' house to frolic the afternoon away in the backyard swimming pool.
"That's where my love for swimming really came about," Long said. " … I would pretend I was a mermaid, and, you know, I would go on all these adventures. I would swim with my eyes open until they were bloodshot."
Growing up, Long strived to win at everything, however mundane the contest. Finishing her ice cream or making it through the front door—she had to be first. Knowing their sister's hypercompetitive nature, Long's siblings would occasionally tease her by sprinting to the designated finish line of the moment.
"I'd be like, 'That's not fair,'" she said.
The pool proved to be the great equalizer.
Long's grandmother spotted a newspaper article about a local swim team, giving the 10-year-old a readymade replacement for gymnastics. She knew only two strokes when she showed up for swim practice, and the first time she tried the butterfly—now her best event—she says she feared she would drown. Soon, though, she was challenging and even beating her teammates who had full use of their arms and legs.
"I really loved, too, the way the girls treated me on the swim team," Long said. "You know, I wasn't just a girl without any legs. I was one of their competitors, and one of the girls who could even beat them."
Two years after she started swimming competitively, Long surprised her family and coaches by securing a spot on the US national team for the 2004 Paralympics in Athens, Greece. Her family had tried to keep her expectations in check at the trials in Minneapolis, Minnesota, reminding her that she was only 12 years old.
"I just remember being like, 'Noooo. I'm going to make it,'" she told RIA Novosti.
In Athens, she ended up capturing three gold medals, including a come-from-behind victory over Israeli world record holder Keren Leibovitch in the 100-meter freestyle. A career was born.
"It's kind of where it all started," Long said.
© Photo : JessicaLong.com
Jessica Long modeling her medal haul from the 2008 Paralympics in Beijing: four golds, a silver and a bronze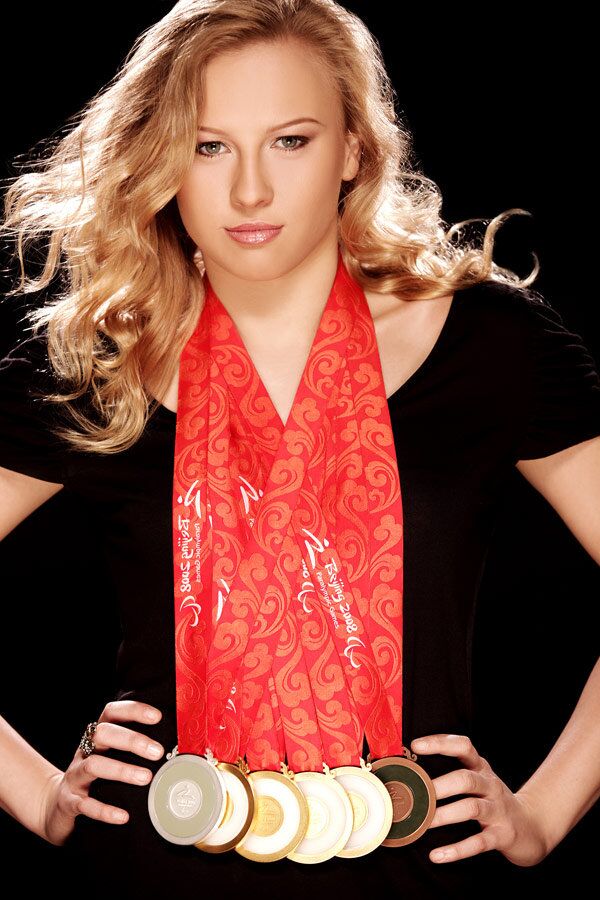 Jessica Long modeling her medal haul from the 2008 Paralympics in Beijing: four golds, a silver and a bronze
© Photo : JessicaLong.com
Long went on to capture four gold medals in Beijing in 2008, though she briefly considered retiring at age 16 because she had promised friends, family and reporters that she'd come home with seven. She won five more gold medals last year at the London Games, and she currently holds 15 world records.
One of her most memorable races, however, came just a few years after she started swimming when she competed against 85 able-bodied challengers in the 100-meter freestyle for her Baltimore club team. The shorter races put Long at a distinct disadvantage against able-bodied swimmers—fibulas and feet make the start and the foot turns considerably more efficient—but Long beat them all that day.
"That was really exciting," she said.
Russia Calling
From the beginning Long's parents were forthright with her about her adoption, and while she says she never felt like an outsider in her American family, she wanted to meet her birth mom from a young age.
"There was a time when I was like 15 or 16 that I really wasn't sure that I'd ever find her, and then as I got older, it was more like, OK, actually I really do want to do this," she said.
The spring before the London games, Long said in an interview broadcast on Russian television that she would like to meet her biological parents. Should such a reunion take place, however, Long wanted it to be after the Paralympics. She had gold medals to win.
Unbeknownst to Long, Viktoria Petrova, an intrepid reporter for state-owned television network Rossiya-1, was making potato pancakes in her kitchen when she saw the television report about the Russian adoptee turned swimming superstar.
Quickly grasping the human drama at the heart of the story, Petrova set off to find Long's birth parents, the journalist wrote later on her personal blog.
Petrova's search led her first to Irkutsk, then to Bratsk, then to the village of Tem—population 853—deep in the taiga. There she found Long's biological parents, Natalya Kirillova and Oleg Valtyshev, who had married and were living with their children, Long's biological siblings: 19-year-old Anastasia and 13-year-old twins Dasha and Igor.
The fate of the daughter she gave up had been a mystery to Kirillova. When Petrova showed Kirillova a video about Long's athletic exploits, the woman whispered to herself, "She looks like me," and then went silent for several minutes, the journalist wrote.
In the run-up to London, Long had been training intensively in Colorado Springs—five hours a day in the pool, weights, abs work, yoga and Pilates. Two weeks before the games, however, Long learned that her biological parents had been located in Russia.
An onslaught from the Russian media ensued. They showered her with emails and even passed notes to her through members of the Russian delegation, Long says.
"I'm not going to lie: I was getting a little angry," she said. "I was like: 'I am competing. … I can't deal with this right now."
Long managed to keep her cool in London, however, snagging two silvers and a bronze to go with her five gold medals at the games.
Within a day after arriving home in Baltimore, Long says, she watched a video of her biological mother, father and sister on a Rossiya-1 talk show that someone had emailed to her. The video helped confirm something she had known intuitively since her childhood.
"I never once felt adopted in my family—never once," she said. "I just knew that I had another family that looked like me. So, when I first saw the TV show and I first saw my biological mom, it was really cool. Because I just—I look like her."
Geopolitical Minefield
Jessica Long's trip to Russia to meet her biological parents and siblings is tentatively set for August. For the friends and family involved, of course, it will be a deeply personal reunion. For many who have followed Long's story, however, it will also be inseparable from geopolitics.
In December, US President Barack Obama signed the so-called Magnitsky Act, a law that introduces financial and visa sanctions on Russian officials deemed by Washington to be complicit in human rights abuses.
The law, passed as part of a bill normalizing trade relations with Moscow, is named after Sergei Magnitsky, a whistleblowing tax attorney who died in disputed circumstances in a Moscow pretrial detention facility in 2009 after accusing law-enforcement and tax officials of organizing a $230-million tax fraud.
Incensed at what it considers US meddling in its internal affairs, Russia quickly retaliated in part by banning US citizens from adopting Russian children. Officials in Moscow also defend the ban as a measure aimed at protecting Russian children from abuse at the hands of their adoptive American families, citing the deaths of 20 Russian adoptees in the United States during the past two decades.
The adoption ban is named for Dima Yakovlev, also known as Chase Harrison, a Russian toddler who died of heatstroke in 2008 after his US adoptive father left him in an overheated car for several hours.
Long's name has been invoked on both sides of the adoption debate ever since Russian officials began a vocal push for the ban late last year.
Critics of the ban say it will deny tens of thousands of children—in particular those with disabilities, like Long—the chance of a normal family life. American families have adopted more than 60,000 Russian children over the past two decades, including 962 last year, according to US State Department figures.
Meanwhile, Pavel Astakhov, the Kremlin's outspoken children's rights ombudsman, compared Long's tale of triumph with the horrors faced by Masha Allen, a Russian girl whose adoptive American father molested her and distributed hundreds of pornographic images of her on the Internet.
"I'd rather not play this American roulette; it's rather humiliating," Astakhov said in a radio interview in December. "You can grow up to be Jessica Long, or you can grow up to be Masha Allen."
Long, as one might expect, was disheartened by the adoption ban and hopes that her trip to Russia might help persuade officials and the public that it is misguided.
"It's given me a loving family," Long said. "I was raised in a Christian home. I have an education. I was able to swim and excel. Just knowing that some of these kids are going to be stopped from all that is just kind of heartbreaking."
'Privyet' and Pianos
Long attends a weekly Russian language class for US Olympic athletes at the training compound to help them prepare for the 2014 Winter Olympics in Sochi. She knows how to say "privyet" ("hello") and "Kak dela?" ("How are you?"), albeit with a robust American accent. And since childhood she's known how to say the Russian phrase that aptly encapsulates her relationship to her competition: "Do svidaniya" ("Goodbye").
It seems unlikely, though, that Long will be able to communicate with her biological family in their native language during the planned August reunion, which Long says may be filmed for posterity by a British studio working on a possible documentary about the swimmer. (Negotiations with the company are in their final stages, Long said, declining to elaborate on the project.)
She says she has rejected repeated attempts by Russian producers to coax her into speaking with her birth parents via Skype for television programs.
"I would really like it to be face-to-face the first time," Long said.
In the meantime, the swim training continues. The 2016 Paralympic Games will be held in Rio de Janeiro, and Long is set to compete in the US Paralympics Spring Swimming Nationals this weekend in Minneapolis. But she concedes that she's been taking it easy compared to her regimen last year.
She was in the pool just a handful of times in the five months following the London games. She says she focused more on doing "normal things" like hanging out with friends and family in Baltimore and eating whatever she wanted before returning to Colorado Springs in January to resume training.
"Right now I'm only really swimming mornings and focusing on some school and some Russia stuff," she said. "But I'm swimming enough to stay in shape."
Not enough, it seemed during a recent morning workout, to insulate Long from the needling of her coach, Dave Denniston, a former US university swimming champion and Olympic hopeful who lost the use of his legs in a 2005 sledding accident.
As early morning sunlight began to filter in through the aquatic center's windows, Long turned in an uncharacteristically slow sprint time.
"Somebody get the piano out of the pool," Denniston quipped from his wheelchair as Long gathered her breath at the wall.
She flashed a mischievous grin when Denniston implored his athletes to "make me smile" on the final sprint of the morning.
When Long tapped the wall five seconds faster than her Steinway time, the coach's howl of delight ricocheted off the concrete before evaporating into the white noise of gently sloshing water.