WASHINGTON, April 4 (RIA Novosti) – The United States said Thursday that statements by the North Korean government have forced Washington to respond by boosting its military defenses.
"When you have a country that is making the kind of bellicose statements and taking the kind of steps that they have, you have to take it seriously and you have to take steps to defend the US and its allies," State Department spokeswoman Victoria Nuland told a news conference Thursday.
Nuland spoke Thursday following comments from South Korea's Defense Minister Kim Kwan-jin, who said Pyongyang had deployed an intermediate-range missile to its east coast, though he said the weapon is not capable of reaching the United States, South Korea's Yonhap news agency reported.
© Sputnik
Balance of Forces on Korean Peninsula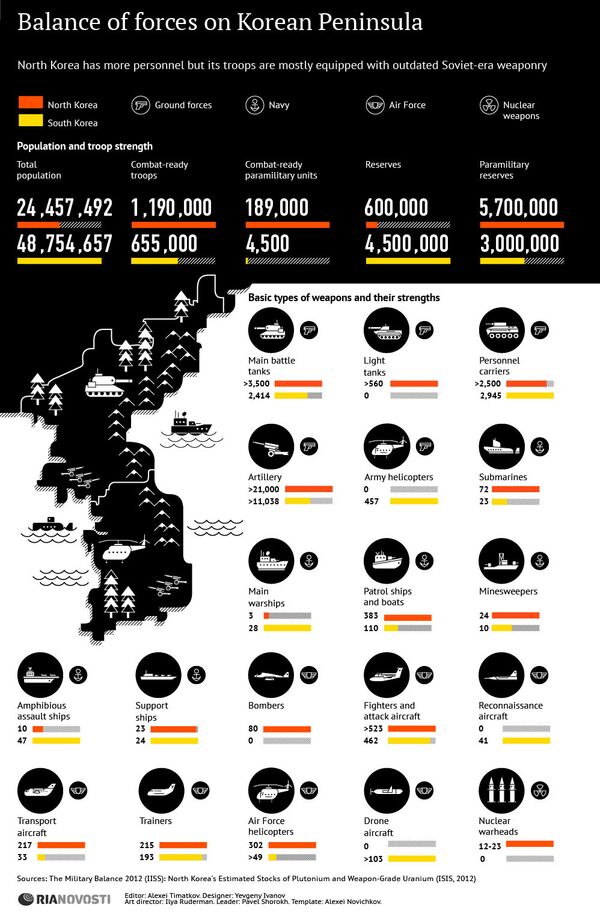 Balance of Forces on Korean Peninsula
In response to the comments from the North Korean government, US Defense Secretary Chuck Hagel on Wednesday ordered missile defense systems deployed to the western Pacific island of Guam, a US territory.
"It was the ratcheting up of tensions on the DPRK side that caused us to need to shore up our own defense posture. We have done that," Nuland said Thursday, using the acronym for the formal name of North Korea.
"But we have also been saying all the way through that this does not need to get hotter, that we can change course here if the DPRK will begin to come back into compliance with its international obligations, will begin to cool things down, take a pause," she added.