MOSCOW, April 6 (RIA Novosti) – Fifty men in their 90s may face prison terms in Germany over allegations of their service as guards at Auschwitz, the biggest concentration camp in Nazi Germany, local media said.
The Zentrale Stelle, a federal law enforcement body investigating Nazi crimes, wants the suspects charged with accessory to murder, the newspaper Westdeutsche Allgemeine Zeitung said late Friday.
The crackdown – which comes 68 years after the end of World War II – was enabled by the precedent case of John Demjanjuk, convicted over similar charges in Germany in 2011.
Zentrale Stelle's investigation lacks direct witnesses, but the agency hopes that available written records would suffice in court, as was the case with Demjanjuk, said the probe's leader, Kurt Schrimm.
Demjanjuk, a native of Ukraine, was a guard at Sobibor concentration camp. He lived in the United States after the war, but was stripped of citizenship and deported to Germany, where he was convicted of accessory to murder of all 27,900 people who died at Sobibor, though his direct involvement in any of the deaths was never proven. He died last year before the ruling came into effect.
The 50 Auschwitz guards came from all over Germany, Schrimm said.
He did not specify their present whereabouts – or, indeed, whether any of them are alive – but said some possibly immigrated to South America with the help of the Catholic Church.
The Zentrale Stelle, or the Central Office of the State Justice Administrations for the Investigation of National Socialist Crimes, has tracked down more than 7,000 Nazi criminals since its establishment in 1958.
© RIA Novosti
Nazi death camps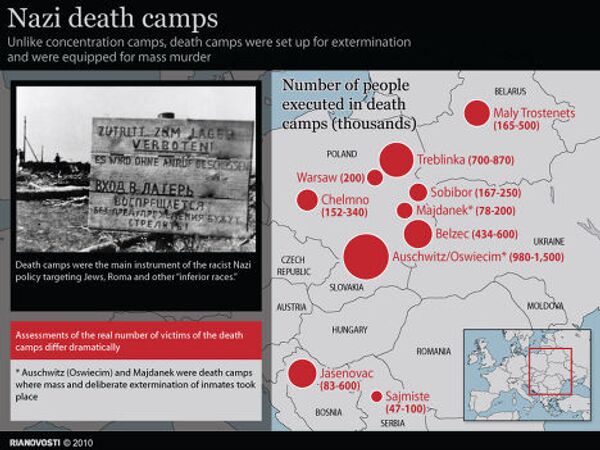 Nazi death camps
At least 4.2 million people died in Nazi concentration camps, about 1.1 million of them in Auschwitz.