Shockingly enough, screenwriter Yury Arabov's fiery acceptance speech at last week's Nika Awards in Moscow was nearly entirely cut from a subsequent broadcast on the STS Channel – but the act of censorship actually proved the point that Arabov had been making all along.
© RIA Novosti
Natalia Antonova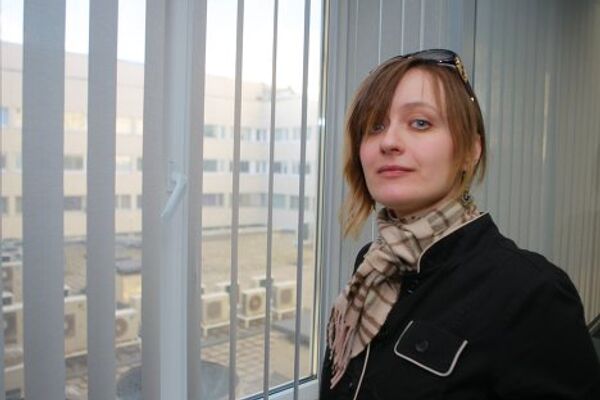 Natalia Antonova
Arabov is one of the most respected Russian screenwriters working today. The Nika, meanwhile, is a bit like the Russian version of the Oscar.
This year, Arabov was nominated for "best screenplay" for two movies, Alexander Sokurov's "Faust" (a languid and refined retelling of the legend that involves a man of science selling his soul to the devil) and Andrei Proshkin's "The Horde" (a tale of how Saint Alexius healed Queen Taidula, ruler of the Tatars, of blindness).
After winning for "Faust," Arabov should have been ecstatic. At the very least, a writer of comparable rank somewhere in Hollywood would have cracked a smile.
Instead, Arabov chose his moment in the spotlight to highlight problems in the Russian movie industry. "As I was personally told by a famous minister, a vice PM, in Russia all of the good stuff exists on the margins," he blurted out at one point. It may seem like a harsh oversimplification, but when it comes to modern cinema, it rings true.
Independent production companies are scarce. State funding for filmmaking frequently appears to disappear down a black hole somewhere. A lack of coherent advertising and PR campaigns, combined with a thriving culture of Internet piracy, mean that good Russian movies don't appear to reach a wide audience at home all that often.
Actor and director Andrei Smirnov, whom I personally admire just as much as I admire Arabov, later came on stage and tempered his colleague's vitriol somewhat. Smirnov reminded us that things are better than they used to be – and hey, at least there is no war going on.
I understand Smirnov's desire to stay positive – I think there is something wonderfully Zen about him as a whole, and I don't mean in that fake, New Age-y way.
Yet I also believe that having passed the first decade of the 21st century, the Russian cinema establishment can't quite keep saying that, "Hey, any day that no bombs are being dropped in the vicinity of Mosfilm Studio is a good day!"
Russia, of course, does not suffer from a lack of talent. Gifted filmmakers are everywhere – even if many of them live on a pittance. I was reminded of that over the weekend, when I attended screenings of the midterm projects shot by the students of Marina Razbezhkina and Mikhail Ugarov's School of Documentary Film and Theater.
Among the usual student fare there were enough gems to remind me that Russian cinema is actually due for a renaissance. As technology advances, making films on the cheap will not be the impossible task it once was. As the co-producer of my husband's first documentary, I can attest to that firsthand.
Yet there is still a lot of paternalism embedded in the Russian movie industry – and highly conservative ideas about what is "art" and what is most definitely "not art" persist on many levels. Mediocrity is frequently rewarded, simply because in many cases, mediocrity is safer to budget for.
Arabov argued that good Russian cinema remains painfully underdeveloped – and he certainly had a point.
"All of the movies winning awards today don't make money," he argued on stage. "That's because they are part of our economy – which is built on oil, built on corruption, and so on."
The fact that Arabov's speech about how hard it is to work in the Russian film industry was censored essentially proved that he was right to make it. If there is too much fear and concern about showing a righteous rant by a respected writer on television – perhaps because the Ministry of Culture might get offended – then it is obvious that culture in general is meant to serve as popcorn fodder, not as a serious platform for artists.
The Nika Awards, ostensibly created to reward outstanding achievement in cinema, were presented to the public as safely uncontroversial: just a nice entertainment program of the sort your grandma might enjoy.
Yet those of us in attendance – and those of us with access to YouTube – will remember Arabov's speech for a long time.
Trendwatching in Russia is an extreme sport: if you're not dodging champagne corks at weddings, you're busy avoiding getting trampled by spike heels on public transportation. Thankfully, due to an amazing combination of masochism and bravado, I will do it for you while you read all about it from the safety of your living room.
Natalia Antonova is the acting editor-in-chief of The Moscow News. She also works as a playwright – her work has been featured at the Lyubimovka Festival in Moscow and Gogolfest in Kiev, Ukraine. She was born in Ukraine, but spent most of her life in the United States. She graduated from Duke University, where she majored in English and Slavic Literature. Before coming to Moscow, she worked in Dubai, UAE and Amman, Jordan. Her writing has been featured in The Guardian, Foreign Policy, Russia Profile, AlterNet, et al.
Trendwatcher: Moscow Real Estate Is Literally Hot
Trendwatcher: Cyprus Bailout: March Madness for Russia's Rich
Trendwatcher: When Being a Middle-Aged Russian Man Is a Death Sentence
Trendwatcher: In (Grudging) Praise of Moscow's Awesomely Rude Salespeople
Trendwatcher: Rebel Dzhigurda Does the Harlem Shake in Moscow
Trendwatcher: Of Blonds, Corruption and Poetry
Trendwatcher: the Mountain of the Dead Is Still Alive
Trendwatcher: Migrants in Moscow Break Jaws and Make Peace
Trendwatcher: Meanwhile in Russia, a Tank Crossed the Road
Trendwatcher: Acid Attack on Bolshoi Director Has Terrifying Implications