MOSCOW, April 11 (RIA Novosti) - About 20,000 mercenaries fighting in Syria are financed by the proceeds of Afghan drug trafficking, Russia's Federal Drug Control Service director Viktor Ivanov said on Thursday.
"Transnational organized crime groups can ensure an inflow of a huge number of criminals and mercenaries from certain countries to any part of the world with proceeds from heroin sales," Ivanov said, but did not provide any evidence to back his claims.
"Thus between 15,000 and 20,000 mercenaries are concentrated in Syria, who are destabilizing the situation in that country," he added.
Transnational criminal groups, not the Taliban, pose the greatest threat in Afghanistan, he said.
Russian Foreign Ministry spokesman Alexander Lukashevich said earlier this month Syria is turning into a "center of attraction" for international terrorists as the ongoing civil war between rebels and government forces continues.
Last year, the Syrian government submitted to the UN Security Council lists of hundreds of foreign nationals killed fighting against government troops in Syria.
About 70,000 people have died in Syria since the start of the uprising against President Bashar Assad in March 2011, according to UN figures.
© Sputnik
Global Drug Trafficking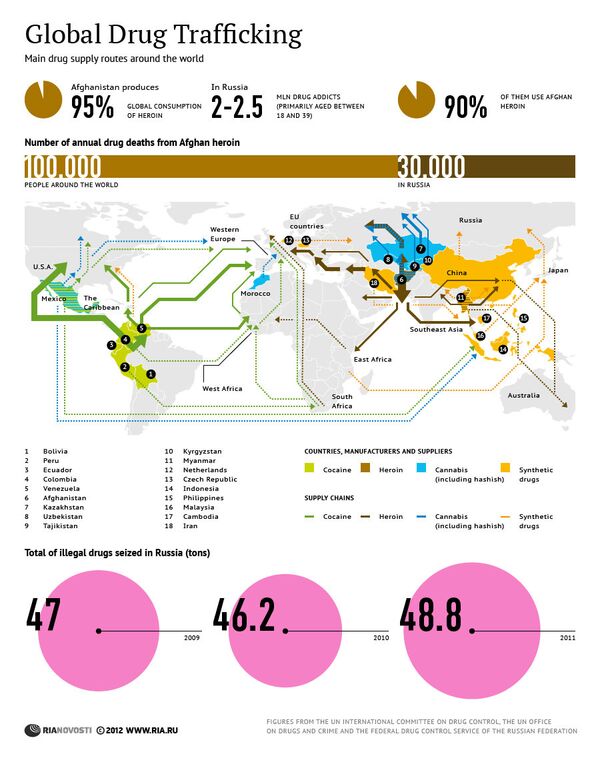 Global Drug Trafficking