TOKYO, April 16 (RIA Novosti) - The North Korean military supreme command has issued an ultimatum to South Korea, demanding an immediate apology for "all the major and minor hostile actions," the state news agency KCNA said on Tuesday.
"The supreme command of the Korean People's Army Tuesday issued an ultimatum to the South Korean puppet group," the statement reads.
The ultimatum, which coincides with the "Day of the Sun" marking the birthday of the North's founder Kim Il-Sung, says that Pyongyang would retaliate without warning if the South goes ahead with its "anti-North Korean" activities.
"Our retaliatory action will start without any notice from now," it reads.
Tensions rose sharply on the Korean Peninsula in December after North Korea tested a long-range Taepodong 2 missile, and again in February when it carried out its third nuclear test. The UN responded with sanctions. The start of joint military exercises between South Korea and the United States last month further irritated the North, which threatened to carry out a nuclear attack on the US mainland, as well as on US forces in the region.
© Sputnik
Balance of Forces on Korean Peninsula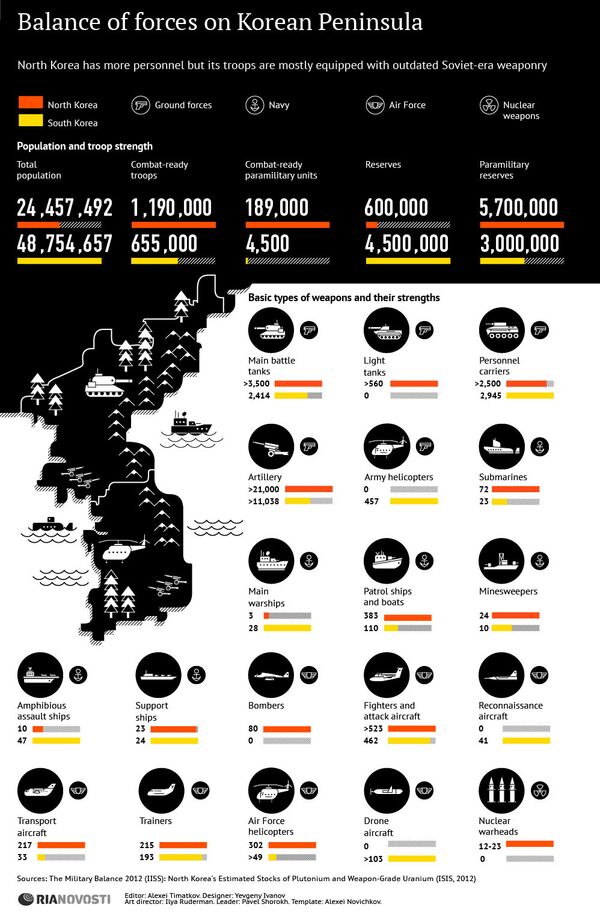 Balance of Forces on Korean Peninsula