MOSCOW, April 16 (RIA Novosti) - Iran's first nuclear power plant in Bushehr was not affected by the devastating earthquake that hit the country on Tuesday, Russia's Federal Atomic Agency Rosatom said.
"It's business as usual at the station," a Rosatom representative told RIA Novosti. "The station did not even feel any tremors as a result of the earthquake."
Iran's Press TV reported citing local officials that the quake, whose epicenter was located in southeastern Iran's province of Sistan and Baluchistan between the cities of Saravan and Khash, near the border with Pakistan, caused no casualties in the quake-stricken areas. The Fars news agency reported 12 people were injured. Earlier reports from Iranian media said some 40 people were killed in the earthquake, but they were not confirmed.
But Pakistani media said over 30 people were killed and dozens injured in Pakistan by the earthquake, which measured, according to different sources, from 7.5 to 7.8 on the Richter scale. The Dawn.com news portal cited officials as saying the quake killed 34 people in different parts of Pakistan's southwestern province of Baluchistan.
The Bushehr NPP is located about 160 kilometers away from the quake-stricken areas.
The Iranian Seismological Center (IRSC) said the epicenter of the quake, which occurred at a depth of 18 kilometers (11 miles), was 95 kilometers (57 miles) north of the city of Saravan, the IRNA news agency said.
Shockwaves were felt in neighboring countries and as far away as India's capital New Delhi. The earthquake was also felt in the Persian Gulf's littoral states of Bahrain, Kuwait, Oman, Saudi Arabia and the United Arab Emirates.
© RIA Novosti
Bushehr Nuclear Power Plant, Iran's first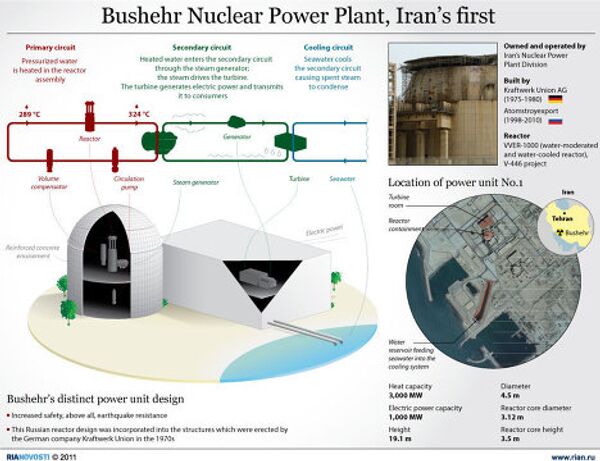 Bushehr Nuclear Power Plant, Iran's first
Relief teams have been dispatched to the area, Mahmoud Mozafar, head of Relief and Rescue Operations at Iran's Red Crescent Society, told IRNA on Tuesday.
Earthquakes are a common occurrence in Iran due to the convergence of four major tectonic plates in the region, according to the US Geological Survey.
Russian President Vladimir Putin has expressed condolences to Iranian President Mahmoud Ahmadinejad in connection with the earthquake and said Moscow is ready to help Tehran deal with its consequences, the Kremlin reported Tuesday.
Updated with new toll figures, details in grafs 3, 4, Putin's statement in last graf.