April 16 (RIA Novosti) Central Boston was on lockdown Tuesday as police questioned witnesses and pored over evidence, vowing to "go to the ends of the earth" to catch and punish the perpetrators of Monday's deadly double bomb attack at the famed Boston Marathon that killed three people and wounded 176.
Federal and state officials appealed to the public in Boston for calm and help with what the Boston police commissioner described as "the most complex crime scene" his department had ever faced, while security in other major US cities was visibly heightened in the wake of the Boston bombings.
Medical officials meanwhile said that scores of victims remained hospitalized with 17 of them listed as being in critical condition and up to eight of them being kept asleep under sedation due to the severity of their injuries.
Flags at US government buildings were lowered to half-staff and President Barack Obama vowed authorities would "aggressively pursue this investigation."
"This was a heinous and cowardly act, and given what we now know about what took place, the FBI is investigating it as an act of terrorism," Obama said Tuesday in a brief statement at the White House after he discussed the investigation with Vice President Joe Biden and FBI Director Robert Mueller.
"We don't know yet who did this or why," Obama said, adding that he had ordered his administration "to take appropriate security measures" without elaborating.
Governments around the world expressed condolences for the victims and condemned the bombings, with Russian President Vladimir Putin calling the attack a "barbarous crime" and stressing in a telegram to Obama that fighting terrorism required coordination among global law enforcement agencies.
Authorities in Britain offered reassurances that security would be adequate at the London Marathon on Sunday while in Russia officials said they would ensure thorough security at the summer world athletic championships in Moscow this summer and the Winter Olympic Games in Sochi next February.
"Our investigation certainly will not be confined very likely to the city limits of Boston," Rick Deslauriers, the FBI special agent in charge of the Boston Marathon attacks, said at a news conference.
"This will be a worldwide investigation," Deslauriers said, adding: "We will go to the ends of the earth to identify the subject or subjects who are responsible for this despicable crime and bring them to justice."
Officials said they so far had no leads and did not know who was responsible for the attack that occurred along a crowded thoroughfare in central Boston near the finish line of the storied long-distance race where large crowds were gathered to cheer runners as they completed the ordeal.
© Sputnik
Major Terror Attacks of 21st Century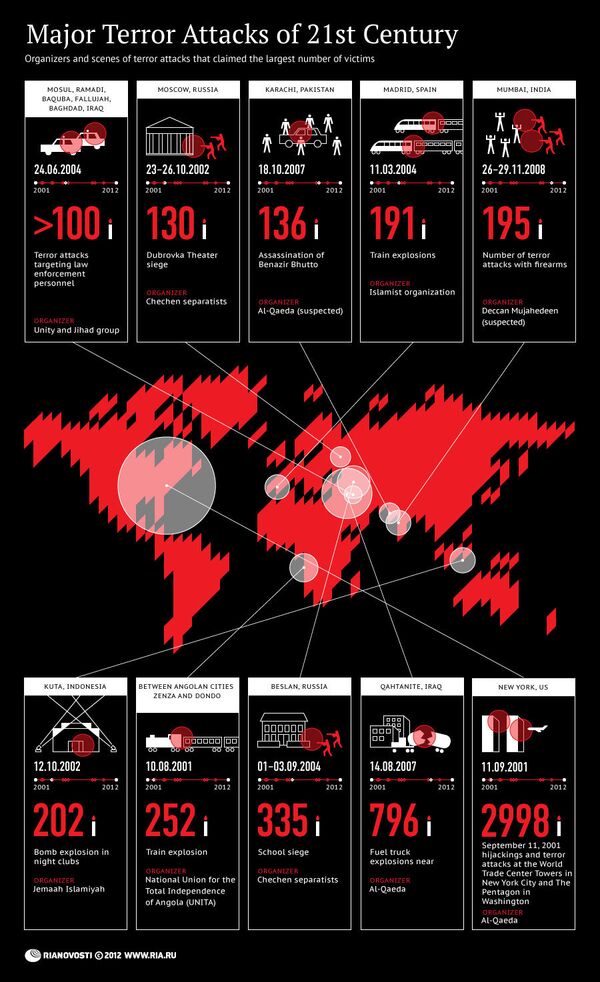 Major Terror Attacks of 21st Century
Speaking at the same news conference, Massachusetts Governor Deval Patrick denied reports that other explosive devices had been discovered in Boston after the two that exploded, giving parts of downtown Boston the look more of a war zone than a bustling commercial district.
"Two and only two explosive devices were found yesterday," Patrick stated.
Officials declined to comment on news reports with unnamed sources saying that police had questioned a Saudi woman who was hurt by one of the blasts in connection with the attack. They repeatedly warned however against speculating on possible perpetrators without hard facts in hand.
"This is the most complex crime scene that we've dealt with in the history of our department," Boston Police Commissioner Ed Davis told reporters. Carmen Ortiz, US attorney for the district of Massachusetts, concurred, saying: "There are so many moving parts to an investigation such as this."
In Washington, the main pedestrian street near the White House, Pennsylvania Avenue, was closed and police patrolled the vicinity while similar measures were implemented around Times Square in New York and at large public gathering places in several other US cities, media reported.