LONDON, April 16 (RIA Novosti) - Russia's strategic forces are capable of penetrating the US missile shield and it poses no military threat to the country, Russian Deputy Prime Minister Dmitry Rogozin said on Tuesday.
"We have solved the issue of penetrating the missile shield. We regret that the United States waste their money on missile defense and compel us to do the same. The missile shield is nothing for us, it's a bluff. It poses no military threat, but remains a political and economic problem," Rogozin said during his speech at the Russian embassy in London.
He said that most of Russia's criticism is caused by the fact that the planned missile shield is "provocative" and "excessive by nature" and thus forces other countries to boost their strategic defenses.
The deputy prime minister, who oversees Russia's defense industry, said that Russia was "compelled to search for a wise and asymmetric response."
"We are carrying out a rearmament program until 2020, it would enable us to renew the hundred percent of our strategic forces. It will be done within the framework of international commitments," the vice premier said.
Rogozin added that because of missile defense issues, countries have to divert attention and funding from other important needs, such as the asteroid threat.
© RIA Novosti
Asteroid threat – reality or myth?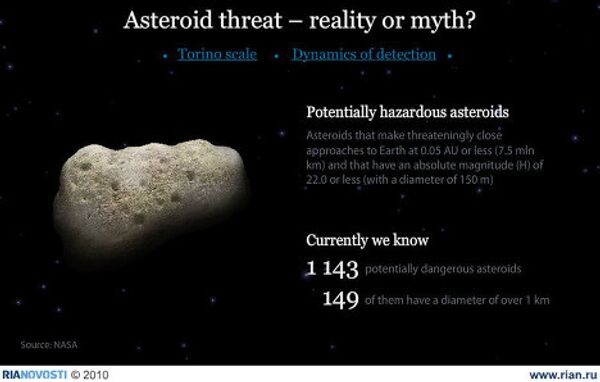 Asteroid threat – reality or myth?
"We have recently witnessed the [meteorite] event in Chelyabinsk. No one can say whether more such incidents will follow, whether we are guaranteed against meteorite strikes. Scientists are baffled by how billions that are being spent on missile shield… while a space threat to the whole humanity is being ignored," he said.
He sais that Russia seeks international cooperation in creating a global system to monitor and exchange information on potentially dangerous space objects.