MINSK, April 23 (RIA Novosti) - Russia plans to base fighter jets at a military airbase in Belarus, with a first wing due to arrive there later this year, Defense Minister Sergei Shoigu said on Tuesday.
"In 2013 we will establish a military commandant's office and provide a wing of combat fighters on alert duty," he said, adding more jets could be based there later.
"We hope that an Air Force regiment will be here by 2015 to protect our borders," he said.
Russia will also deliver four battalions of S-300 surface-to-air missiles to Belarus in 2014, Shoigu said.
The decision to deliver the missiles was made at a meeting with Belarusian President Alexander Lukashenko, Shoigu said.
Belarus borders NATO nations Poland, Latvia and Lithuania. NATO nations now fly combat air patrols from the Baltic states close to Russian airspace, an issue that has previously been viewed with concern in Moscow.
The Collective Security Treaty Organization, a Russian-led military alliance of six former Soviet republics, plans to build an integrated air and missile defense system, the chief of the Russian military's General Staff said in December.
© Sputnik
The S-300-P surface-to-air missile system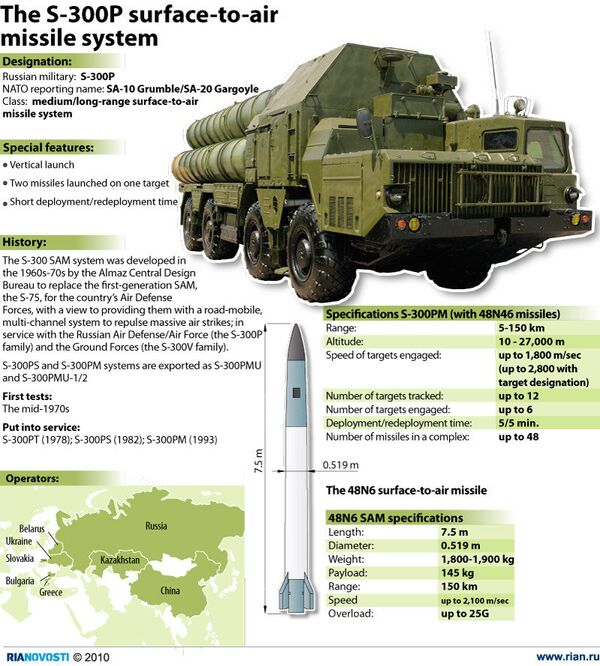 The S-300-P surface-to-air missile system
The CSTO's current members are Armenia, Belarus, Kazakhstan, Kyrgyzstan, Russia, and Tajikistan. Uzbekistan announced it had pulled out of the organization in 2012.
So far Russia has signed agreements on creation of joint regional air defense systems with Belarus and Kazakhstan.