MOSCOW, April 23 (RIA Novosti) - The Russian Navy will take delivery of two Project 955 Borey-class ballistic-missile submarines, the Alexander Nevsky and the Vladimir Monomakh, and one Yasen-class attack submarine, the Severodvinsk, by the end of the year, a Defense Ministry official said on Tuesday.
Everything is going according to plan and there will be "no delays," said Andrei Vernigora, director of the ministry's state defense contracts department, refuting reports the Alexander Nevsky would only be put into service only in 2014.
Alexander Nevsky is due to be commissioned with the Navy in September, he added. The boat has been undergoing trials at the Sevmash shipyard since 2012. A Bulava ballistic missile will be test-launched from the submarine in the summer, a Navy official told RIA Novosti in late March.
Alexander Nevsky is the second Borey-class submarine. The first, the Yury Dolgoruky, entered service with the Northern Fleet in January, and the third, the Vladimir Monomakh, was floated out last December and will start trials in the White Sea in June, United Shipbuilding Corporation President Andrei Dyachkov said earlier this month.
The Sevmash shipyard will start construction this year of two more Borey-class Project 955A submarines - the Alexander Suvorov and the Mikhail Kutuzov.
Severodvinsk nuclear attack submarine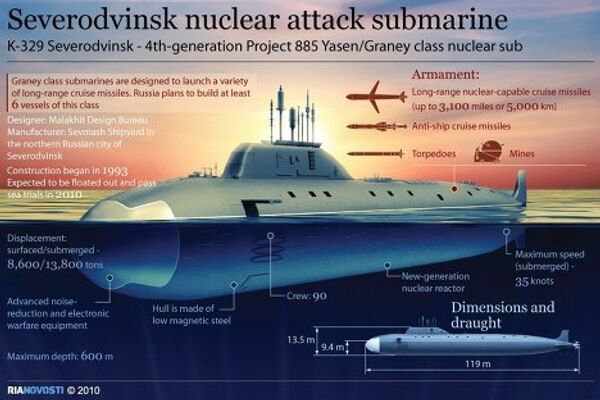 Severodvinsk nuclear attack submarine
Borey class submarines are to become the mainstay of the Navy's strategic nuclear deterrent, replacing the ageing Project 941 (NATO Typhoon class) and Project 667 class (Delta-3 and Delta-4) boats.
A total of eight Borey-class submarines are to be built for the Russian Navy by 2020.
Sevmash said in August it hoped to hand the Severodvinsk attack submarine over to the Russian Navy by the end of 2012.
The Severodvinsk carried out a series of cruise-missile test-firings in November earlier including the test-launch of a supersonic cruise missile at a land target. Laid down in 1993, Severodvinsk is one of eight Yasen-class boats being built for the Russian Navy.
The multirole attack submarine has a submerged displacement of 13,800 tons, length of 119 meters, speed of 31 knots, and can dive to 600 meters. It has a crew of 90 including 32 officers.
It is armed with 3M55 Oniks (SS-N-26) and 3M54 (SS-N-27) Kalibr cruise missiles, torpedoes, and mines.