MOSCOW, April 29 (RIA Novosti) – The majority of Russians (77 percent) are satisfied with their lives, according to a new poll released on Monday by the state-run public opinion researcher, VTsIOM.
The survey showed Russians' overall satisfaction with life had grown from 67 percent in 2011. The latest figure is the same as the result of a poll in March 2008. The highest happiness rate (82 percent) was recorded last year.
Most Russians (87 percent) who said they were happy are aged between 18 and 24. Highly educated Russians made up 84 percent of happy respondents, and a total of 82 percent who are content with their lives live in Moscow.
Eighteen percent of respondents said they were unhappy.
As in previous surveys, Russians who said they were content associated a sense of happiness with the well-being of their family (29 percent). About 18 percent find joy in their children and grandchildren, and 17 percent reported that life had worked out well for them, while 10 percent cited a good job as cause for happiness, and 6 percent are satisfied if they and their families are healthy.
© RIA Novosti
What makes Russians happy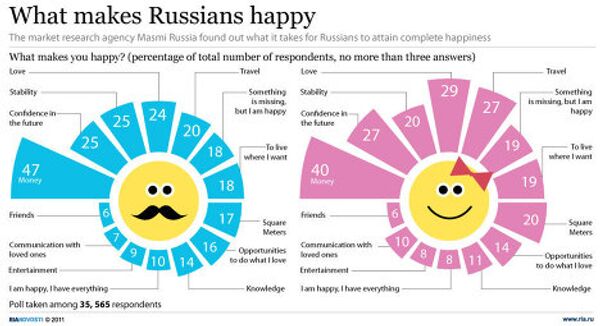 What makes Russians happy
Poverty was cited by 19 percent of unsatisfied respondents as a leading cause of unhappiness, followed by illness and old age (7 percent). Other negative factors mentioned were lack of a good job and general problems (4 percent).
Some 42 percent of all respondents believe people around them are happy in general, while 18 percent thought most people around them were unhappy, according to the survey.
The poll was conducted among 1,600 respondents from April 20-21 in 42 Russian regions. The margin of error is 3.4 percent.