MOSCOW, April 29 (RIA Novosti) – A court has found the director of a children's home in central-west Russia guilty of child abuse and given him a three-year suspended prison sentence, the Investigative Committee said Monday.
Martin Sargsyan, head of Children's Home Number 1 in the Vladimir Region city of Murom, has been convicted of using violent methods against teenagers, including throwing wooden or iron chairs, books and other objects at them, the committee said in a statement.
Investigators said that back in 2002, a 15-year-old boy had complained about Sargsyan's brutal behavior to the local administration. Upon learning this, the 53-year-old children's home director reportedly drove the boy and other teenagers to a cemetery and told them to dig their own graves.
The teenagers were later taken back to the children's home and locked for several days in a shower room and basement as punishment for making the complaint, the statement said.
Earlier this month, Russian investigators opened a criminal case against another children's home director, Valentina Tazekenova, who is suspected of having exploited teenagers in her care as unpaid laborers.
© Sputnik
Children's rights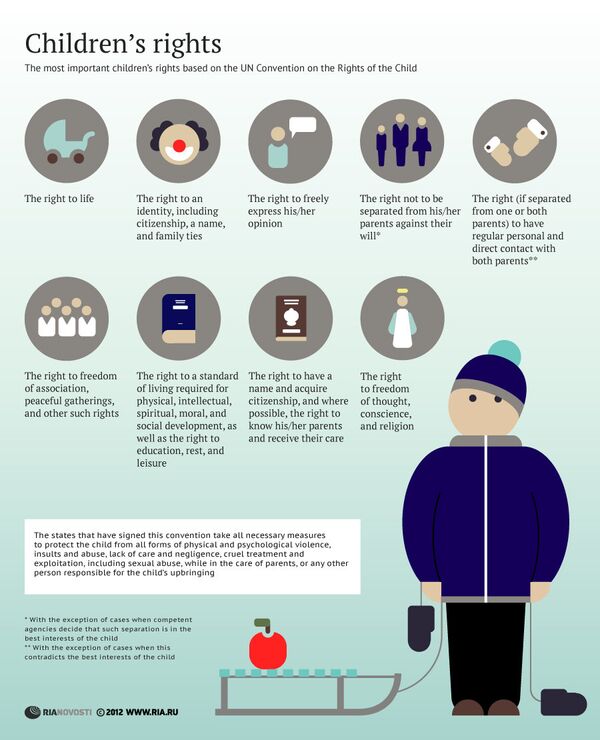 Children's rights
Tazekenova is suspected of abuse of authority, and of withholding salaries worth 1.5 million rubles ($48,300) from teenagers at a children's home in the Orenburg Region near Kazakhstan.