MOSCOW, April 30 (RIA Novosti) – The fate of a new Kalashnikov AK-12 assault rifle developed for the Russian army will be decided during the state acceptance trials due to begin in June 2013, Russia's largest firearms manufacturer, Izhmash, said.
"In the interests of the Defense Ministry, Izhmash is working on the modernization of the AK-74 and AK-100 assault rifles in service with the Russian army, as well as developing a [new] standard assault rifle on the AK-12 platform which will undergo state acceptance trials in June 2013," Izhmash's chief designer, Vladimir Zlobin said on Monday.
© Sputnik
The legendary Kalashnikov assault rifle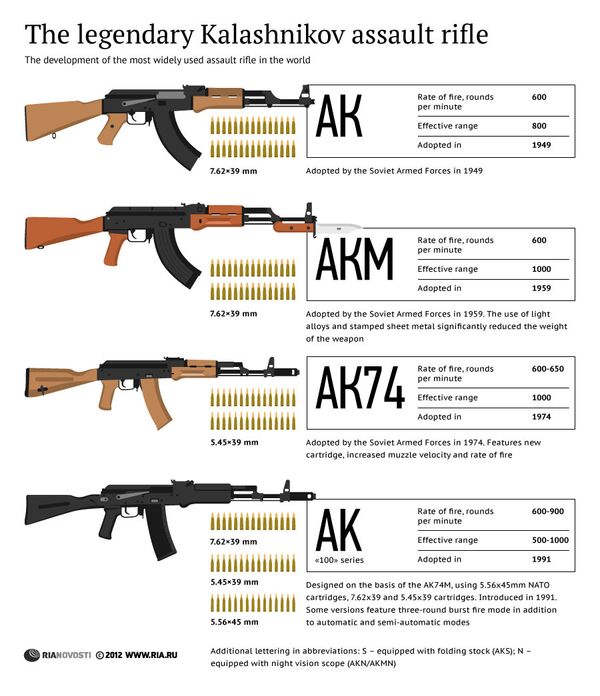 The legendary Kalashnikov assault rifle
If the trials are successful, the new assault rifle will be put in production and will be adopted as a service weapon for the military.
Development of the AK-12 began in mid-2011. The new weapon retains the overall layout and features of the AK-74, in service with the Russian army since the 1970s, but features several modifications and ergonomic changes.
The new assault rifle has being developed as a basic platform for nearly 20 different modifications of the weapon. It could be adapted for cartridges varying from 5.45x39 mm to 7.62x51 NATO.
According to Izhmash designers, they "have adapted the weapon to modern combat requirements, having preserved Kalashnikov's unique qualities - simplicity, reliability and relatively low production cost."
The rifle features three firing modes: single shot, three-shot burst and automatic fire. The muzzle of the AK-12 has been designed to shoot foreign-standard barrel-mounted grenades.
The weapon is also equipped with Picatinny rails to mount optical, and night sights, grenade launchers, target indicators and other special equipment.
The AK-12 has a folding stock, and a height-adjustable heelpiece. The weapon can be used by both left-handed and right-handed people, and can be easily handled with one hand.