TEHRAN, May 7 (RIA Novosti) – Iran accused Western powers on Tuesday of helping Syrian rebels gain access to chemical weapons.
"Women and children in Syria are dying from the use of different types of weapons, including chemical weapons, which fall into terrorist hands with the support of Western states," an Iranian Foreign Ministry spokesperson said.
The Syrian government refers to rebels fighting forces loyal to President Bashar al-Assad as "terrorists."
© Sputnik
Elimination of Chemical Weapons in the World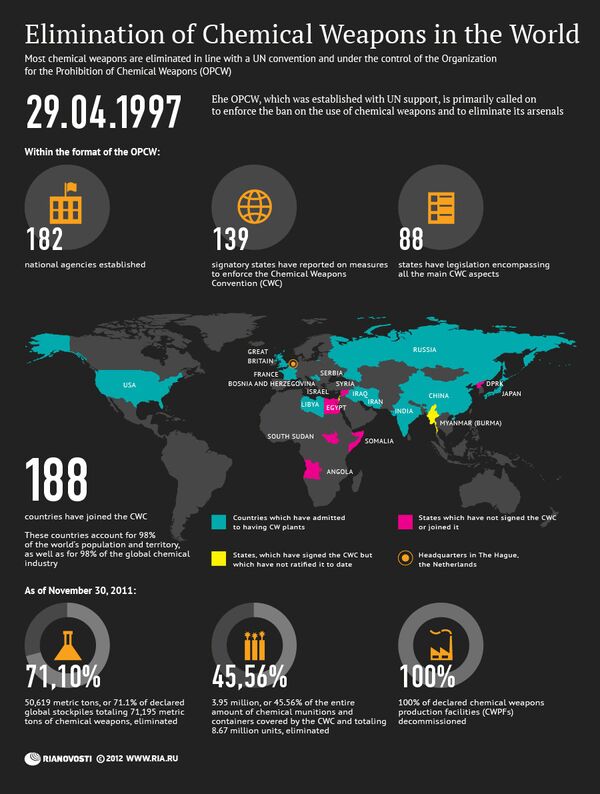 Elimination of Chemical Weapons in the World
"We find it highly likely that any chemical weapon use that has taken place in Syria was done by the Assad regime," White House spokesman Jay Carney said.
The statement followed comments by Carla Del Ponte, a member of the UN commission to monitor and investigate reported human rights abuses in Syria, in which she said the commission had received testimony from victims and doctors about the alleged use of the deadly nerve gas sarin by rebel forces.
The United States has said the use of chemical weapons by forces loyal to Assad would cross a "red line."