TOKYO, May 19 (RIA Novosti) – North Korea launched on Sunday another short-range missile, a day after firing three short-range missiles into the Sea of Japan, Yonhap news agency reported, referring to South Korea' Defense Ministry.
The missile was reportedly launched in the second half of the day from North Korea's eastern coast and fell into the Sea of Japan. There were no reports about the exact time of the launch or the type of the missile.
North Korea launched three short-range guided missiles into the waters off its eastern coast on Saturday.
"A more detailed analysis will be needed but the missiles launched may be a modified anti-ship missile or the KN-02 surface-to-surface missile derived from the Soviet-era SS-21 that has a range of about 120 kilometers," Yonhap cited a Seoul official as saying.
The South Korean Defense Ministry said it had increased its monitoring of North Korea and was on standby to deal with any further developments.
The missiles are believed to have been launched from North Korea's eastern coast and fallen in the Japanese Sea. Japan confirmed that North Korea had fired missiles, but said none of them had landed in Japan's territorial waters.
Analysts suggested that the missile launches were part of military drills. Pyongyang routinely test-launches such missiles, but the latest tests followed several weeks of relative calm on the Korean Peninsula after tensions escalated earlier this year, following North Korea's test of a long-range Taepodong 2 missile in December and its third nuclear test in February, to which the UN responded with sanctions.
After the start of the Foal Eagle joint military exercises between South Korea and the US in March, North Korea threatened to carry out a nuclear attack on the US mainland and on US forces in the region, and tested two short-range missiles off the east coast of the Korean Peninsula. Later it denied entry to South Korean workers to the jointly run Kaesong industrial complex in North Korea, prompting South Korea to withdraw its remaining workers from the site.
© Sputnik
Maximum Range of North Korean Missiles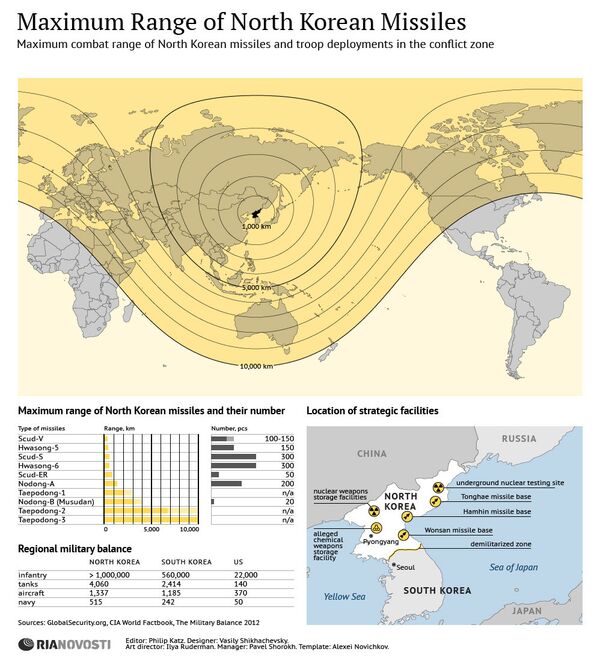 Maximum Range of North Korean Missiles
Last week, reports emerged that two North Korean mid-range missiles, reportedly prepared for launch last month, had been withdrawn from their coastal positions.
UN Secretary General Ban Ki-moon said on Sunday he was concerned over North Korea's latest short-range missile launches and called on Pyongyang to return to six-party talks on its controversial nuclear program.
"I only hope that the DPRK authorities will refrain from taking further such measures. It's time for them to return to dialogue, to reduce the tension, and resolve whatever grievances, complaints or concerns that they may have – try to resolve that through dialogue."
North Korea has been subjected to several rounds of UN Security Council sanctions since it declared itself a nuclear power in 2005. The reclusive communist regime broke off talks with South Korea, China, the United States, Japan and Russia on its nuclear program in 2009, after the United Nations Security Council passed a resolution condemning its missile tests.