MOSCOW, May 20 (RIA Novosti) - The security situation on the Korean Peninsula is still serious after North Korea's recent missile launch and its defiant pursuit of nuclear weapons, South Korea's foreign minister was quoted by South Korean media as saying Monday.
Foreign Minister Yun Byung-se made the statement at an annual conference of chiefs of overseas diplomatic missions in Seoul, after the North test-fired four short-range missiles into the East Sea (Sea of Japan) over the weekend.
© Sputnik
Maximum Range of North Korean Missiles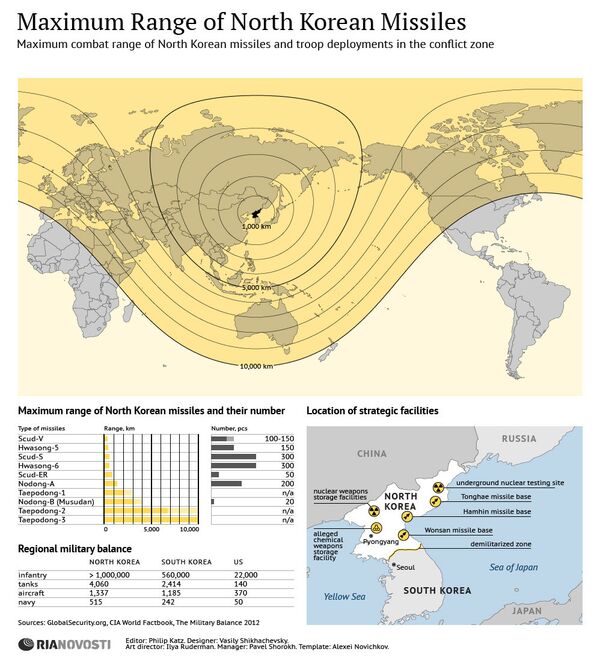 Maximum Range of North Korean Missiles
"We continue to face a grave situation due to a series of provocations and nuclear threats by North Korea," Yun told the conference without going into details as quoted by the Yonhap news agency.
Analysts suggested that the missile launches were part of military drills. Pyongyang routinely test-launches such missiles, but the latest tests followed several weeks of relative calm on the Korean Peninsula after tensions escalated earlier this year, following North Korea's test of a long-range Taepodong 2 missile in December and its third nuclear test in February, to which the UN responded with sanctions.
UN Secretary General Ban Ki-moon said Sunday he was concerned over North Korea's latest short-range missile launches and called on Pyongyang to return to six-party talks on its controversial nuclear program.
North Korea has been subjected to several rounds of UN Security Council sanctions since it declared itself a nuclear power in 2005. The reclusive communist regime broke off talks with South Korea, China, the United States, Japan and Russia on its nuclear program in 2009, after the United Nations Security Council passed a resolution condemning its missile tests.