WASHINGTON, May 20 (RIA Novosti) - A massive tornado ploughed through populated areas near Oklahoma City on Monday, demolishing homes, schools and businesses, hurling cars and trucks through the air and leaving a stunning trail of wreckage and human agony in its wake, all documented on live TV.
At least 90 people were killed, news agencies cite local officials as saying. CNN earlier put the death toll at over 50, including 20 children. Medical sources said over 120 people were hospitalized, including 70 children.
Local officials and weather experts said the magnitude and location of the sudden monster storm, with winds up to 200 miles per hour (322 kph), reported to have been around one mile (1.6 kilometers) wide, and was sufficient to result in significant numbers of injuries or deaths.
© RIA Novosti
Tornado formation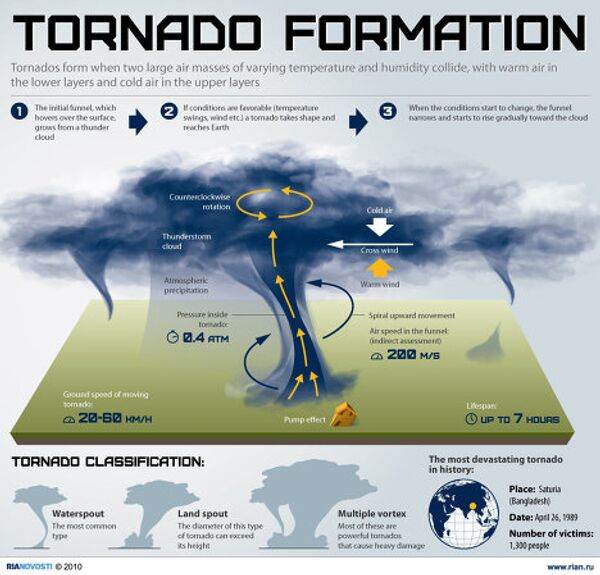 Tornado formation
Local video shot from helicopters and broadcast nationally by US cable television news outlets showed entire buildings either erased from the map altogether or else reduced to chaotic heaps of twisted metal, scattered wood and other detritus. Flames were shown engulfing at least one residential home.
Local media said dozens of children were caught in a school in the town of Moore, south of Oklahoma City, when the tornado struck but many were being extracted from the wreckage alive while anxious parents were kept away by rescue workers.
"It seems that our worst fears have happened today," Bill Bunting, a meteorologist for the US National Weather Service in Norman, Oklahoma, said in a television interview.
The tornado was on the ground for around 45 minutes, officials said, and the entire disaster, from before it touched down to after it had disappeared and shell-shocked people began emerging in the ruin, was broadcast on live national television by CNN and other channels.
A storm system also spawned several tornadoes across Oklahoma on Sunday, killing at least two people and injuring 39 others.
Updates with death toll in para 2