MOSCOW, May 21 (RIA Novosti) - A total of 59 percent of Russians use Internet, up three percentage points since last year, according to the results of a survey published on Monday by an independent pollster, Levada Center.
The figure was only five percent when Levada Center first polled Russians on the issue in 2001.
The percentage varies greatly among different social groups: while over 80 percent of students, senior managers, directors and leading specialists regularly surf the Web, only nine percent of retirees and 13 percent of Russians older than 55 years are internet users.
A research published in March 2013 by another pollster, the Public Opinion Foundation (FOM), shows that about 50.1 million of Russians above the age of 18 (or 43 percent of the country's total adult population) surf the internet daily, and 64.4 million adults (55 percent) browse the Web at least once a month.
The CEO of the TNS-Russia think tank, Ruslan Tagiyev, gave slightly different figures at a conference on April 17. He said at least 76.5 million people above the age of 12 (or 53 percent of the country's general population) use the internet at least once a month.
© Sputnik
Truth and lies of Russian Internet Users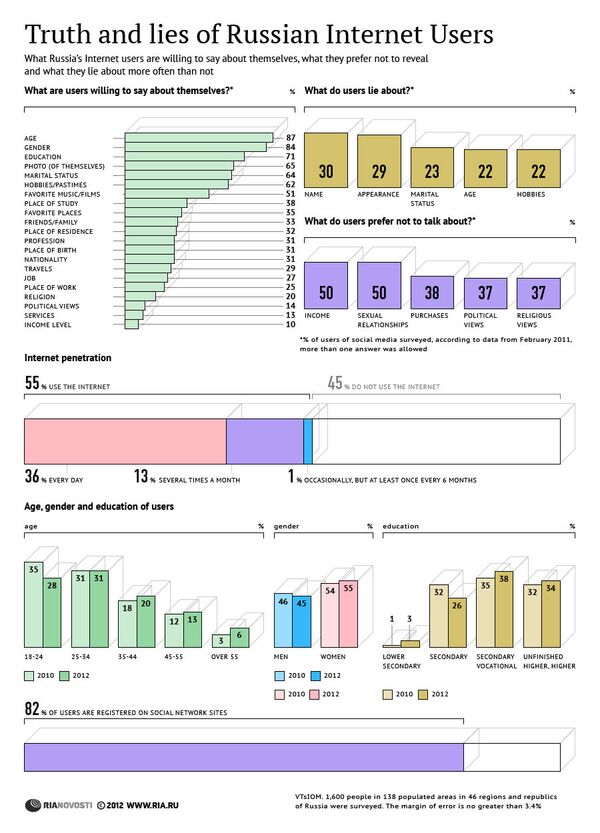 Truth and lies of Russian Internet Users