ST. PETERSBURG, May 21 (R-Sport) – Russia is struggling to beef up its hospitality infrastructure ahead of the 2018 World Cup, with seven of the 11 host cities lagging behind in the number of hotel rooms on offer, World Cup deputy CEO Alexander Djordjadze said Tuesday.
Only Moscow, Sochi, St. Petersburg and Kazan meet the FIFA requirement of 60,000 hotel rooms for host cities, Djordjadze said at the Football Build Expo in St. Petersburg.
"It's no secret that the other cities require improvement," he said, referring to Yekaterinburg, Kaliningrad, Nizhny Novgorod, Samara, Volgograd, Rostov-on-Don and Saransk.
© RIA Novosti
Russia's bid for the 2018 FIFA World Cup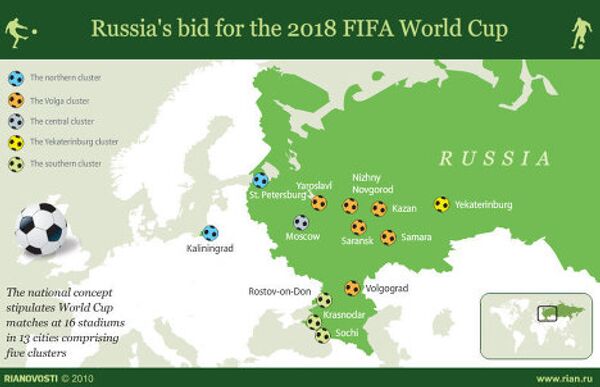 Russia's bid for the 2018 FIFA World Cup
Russia's sports ministry has said it will need $44 billion to organize the World Cup, which will be held June 8 to July 8, 2018. Individual regions have already asked for federal funding to improve antiquated roads and transportation hubs and build stadiums.
In December, FIFA president Sepp Blatter said preparations were exceeding his expectations.