MOSCOW, May 24 (RIA Novosti) – Defense Ministry contracts signed under former Minister Anatoly Serdyukov are to be thoroughly examined and if necessary, audited, Deputy Prime Minister Dmitry Rogozin said on Friday.
Serdyukov, who had held the post of Defense Minister since 2007, was sacked in November and replaced by Sergei Shoigu amid a series of ongoing corruption scandals that have rocked Russia's defense sector.
"It is necessary to see how feasible those contracts are," Rogozin told a meeting with shipbuilding company heads.
"Those contracts that were signed, as you know, were largely detrimental."
Rogozin, who oversees the defense industry, said earlier in the day that the Russian government is ready to step in to sort out the crisis in Russian naval shipbuilding that is threatening to derail the defense procurement program.
He made his comments on the same day it was revealed that the state-run United Shipbuilding Corporation (USC) is looking for money that was allocated to complete the Nerpa nuclear submarine for India's navy. A total of 500 million rubles ($15.9 million) is unaccounted for, Kommersant business daily reported on Friday.
USC's previous board of directors "bears full responsibility for nodding their heads, signing unworkable documents, concluding contracts at prices that were obviously below market levels," Rogozin said on Friday.
President Vladimir Putin has been briefed on the issue and the implementation of the arms procurement program will be discussed in late July, Rogozin said.
"We won't tolerate any further delays in that program," he warned.
Putin criticized USC on Tuesday over delays in the delivery of warships to the Navy. The president announced at a meeting that day that Vladimir Shmakov, first deputy CEO of tank manufacturer Uralvagonzavod, has been appointed as new USC head, with a brief to sort out the delivery program.
Putin ordered USC's management to submit a report by October 15 on measures to improve the situation in the industry.
© RIA Novosti
France's Mistral amphibious assault ship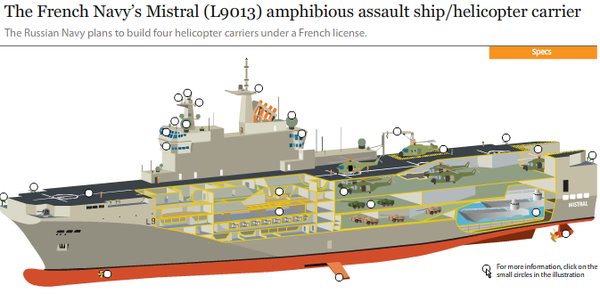 France's Mistral amphibious assault ship
USC, established in 2007, is Russia's largest shipbuilding and ship repair company. It comprises nine design bureaus and 39 shipyards. USC currently accounts for 70 percent of the domestic shipbuilding industry, according to its website. 
Doubts about the ability of the industry to deliver warships on time and budget prompted Serdyukov to order Mistral-class amphibious assault ships from France in 2011. That deal has subsequently been criticized by Rogozin and other senior defense industry officials.
The Russian Navy is expected to receive 24 submarines and 54 surface warships of various classes by 2020, according to the Defense Ministry.
Putin said last year that the procurement of new warships and submarines for the Navy would be a priority over the next decade. The Russian government has allocated five trillion rubles ($166 bln) or a quarter of the entire armament procurement budget through 2020 for this purpose.