MOSCOW, May 28 (RIA Novosti) – Four regiments of S-300 air defense systems have been deployed at the Ashuluk firing range in southern Russia as part of another snap combat readiness check of the Russian armed forces, the Defense Ministry said.
The regiments were airlifted on Thursday by military transport planes to designated drop zones where they will carry out a variety of missions simulating the defense of the Russian airspace from massive attacks by "enemy" missiles and aircraft.
"The missions will be carried out in conditions of heavy electronic warfare to test the capabilities of the air defense units to the highest limit," the ministry said.
© Sputnik
The S-300-P surface-to-air missile system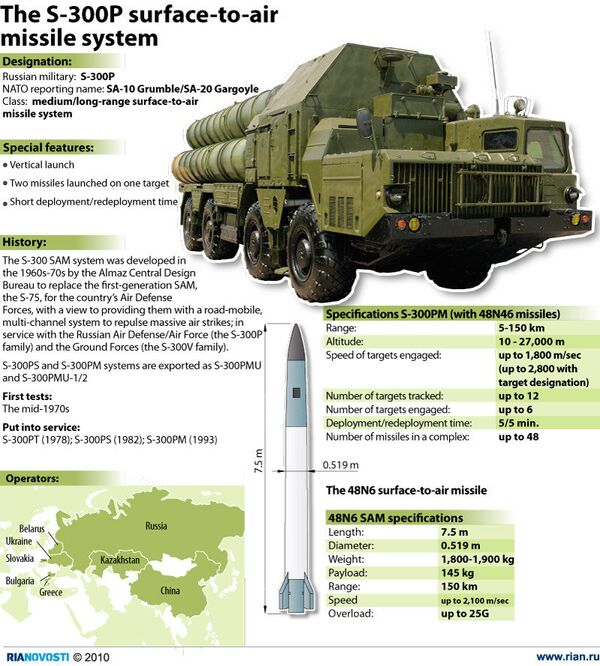 The S-300-P surface-to-air missile system
The surprise alert exercise, ordered by Defense Minister Sergei Shoigu, is part of a series of random checks of the Russian armed forces that began in February.
The previous two checks revealed a number of systemic shortcomings, in particular in the Central and Southern Military Districts, the Airborne Assault Forces (VDV) and military transport aviation units.
Alert duty officers in some military units demonstrated a slow response to processing orders via automated combat command and control systems, especially in the airborne forces and at the 201st military base in Tajikistan.
Other problems included poor accuracy in firing, especially by tanks and infantry fighting vehicle crews.
The Defense Ministry said in February that random inspections will now be conducted on a regular basis to insure constant combat readiness of the armed forces.