MOSCOW, May 29 (RIA Novosti) – The Customs Union of Russia, Belarus and Kazakhstan supports Ukraine's bid to acquire observer status in the Moscow-based trade bloc, Kazakh President Nursultan Nazarbayev said Wednesday.
"Ukraine has expressed the intention to acquire observer status in the Customs Union of the Common Economic Space as well as in the future Eurasian Economic Union. We have supported their intention and made an appropriate decision," he said after a meeting of the presidents of Kazakhstan, Russia, Ukraine and Kyrgyzstan.
Experts will now prepare the relevant documents to be submitted for consideration and approval by the Supreme Eurasian Economic Council at its next meeting, Nazarbayev said.
Valery Muntiyan, the Ukrainian government's representative for collaboration with Russia, the Commonwealth of Independent States and the Eurasian Economic Community, said Ukraine could join the Customs Union in July.
Last Wednesday, the Ukrainian government approved a memorandum for applying for observer status in the Customs Union, Prime Minister Mykola Azarov said.
"Observer status will enable us to effectively uphold our interests in the Customs Union," Azarov told Belarusian First Deputy Prime Minister Vladimir Semashko.
Ukraine is seeking observer status in the Customs Union to maintain its existing volume of trade with Russia, Belarus and Kazakhstan, as well as to assess the possible advantages and disadvantages of full membership.
In mid-March, Russian Prime Minister Dmitry Medvedev dismissed the possibility of Ukraine joining the bloc on special terms.
"Our Ukrainian friends like to talk about the issue of joining [the Customs Union] under a 'three-plus-one format' and so on. But it can't be this way. It's either all or nothing," the prime minister said. "Full-fledged participation requires ratification and the signing of all documents."
Russia sees the grouping as a stepping stone to a wide-ranging Eurasian Economic Union and has touted membership to Moldova and Ukraine, though Kiev has long harbored ambitions of moving closer to the EU.
© Сollage by RIA Novosti
Customs Union of Russia, Belarus and Kazakhstan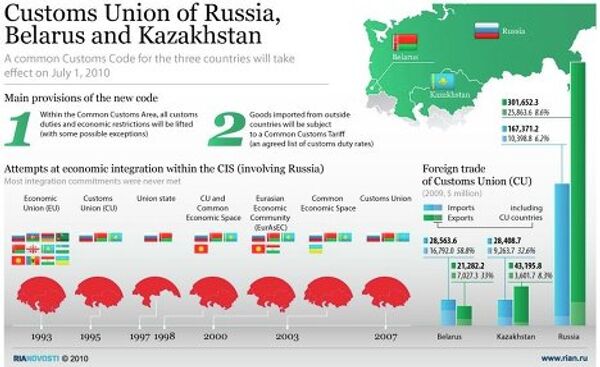 Customs Union of Russia, Belarus and Kazakhstan
Ukraine, which has few energy resources of its own, relies heavily on gas imports from Russia. The 2009 gas deal signed between Moscow and Kiev tied the price for Russian gas to international oil prices, which have risen significantly since 2009, increasing Ukraine's bill.
Russia has said on numerous occasions that it could cut gas prices for its neighbor if Ukraine joins the Customs Union.
Ukraine, which has proclaimed a strategic course of Euro-integration, has been reluctant to become a full member of the Customs Union because such a deal would rule out signing a free-trade agreement with the European Union.