MOSCOW, June 3 (RIA Novosti) – Russia's Project 885 Yasen-class attack submarine, the Severodvinsk, has embarked on its latest series of official tests in the White Sea, the manufacturer said Monday.
Sevmash shipyard spokeswoman Yekaterina Pilikina said the tests had started several days ago, without providing details on their time frame or scope.
The shipyard had earlier said the submarine would continue tests that had started in 2011. The Severodvinsk has spent a total of 137 days at sea.
The submarine, whose construction began in 1993, is due to be delivered to the Navy later this year. It was to have been handed over by the end of 2012.
The Severodvinsk carried out a series of cruise-missile test-firings in November, including the test-launch of a supersonic cruise missile at a land target.
The multirole attack submarine has a submerged displacement of 13,800 tons, length of 119 meters, speed of 31 knots, and can dive to 600 meters. It has a crew of 90, including 32 officers.
Severodvinsk nuclear attack submarine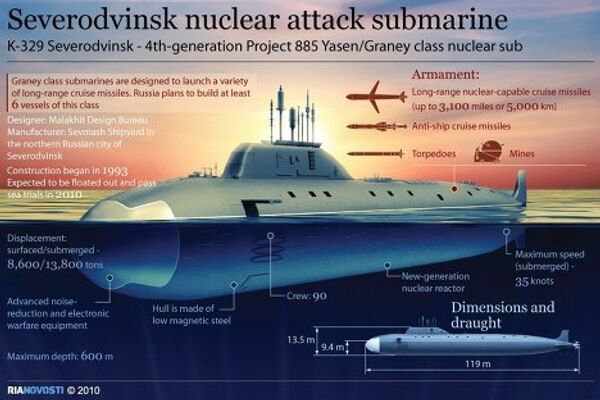 Severodvinsk nuclear attack submarine
It is armed with 3M55 Oniks (SS-N-26) and 3M54 (SS-N-27) Kalibr cruise missiles, torpedoes and mines.