MOSCOW, June 4 (RIA Novosti) – Russia has serious doubts about the willingness of US authorities to protect the legitimate rights and interests of Russian children adopted by US families, Russian Foreign Ministry's special representative for human rights, Konstantin Dolgov, said Tuesday.
Commenting on the decision by Texas prosecutors not to charge the adoptive parents of a Russian toddler who died suddenly in January, Dolgov said it was a reflection of a lenient attitude toward US parents involved in violence against Russian adoptees.
"The events in Texas confirm, in general, our doubts about the willingness and the ability of US federal authorities to ensure adequate protection of legitimate rights and interests of Russian children adopted by US citizens," Dolgov said in a statement.
Max Shatto, the three-year-old Russian adoptee also known by his Russian name Maxim Kuzmin, died on January 21. According to an autopsy report, he had bruises on his body in different stages of healing at the time of his death.
Texas investigators said the boy's death – from a ruptured artery in his abdomen – was accidental, and a grand jury declined to indict either of the parents.
However, Dolgov said there were numerous inconsistences in the investigation casting doubts on the legitimacy of conclusions made by US authorities.
"Even a layman can conclude from the investigation materials that the injuries that led to the boy's death could not have been self-inflicted," Dolgov said.
© Sputnik
Children's rights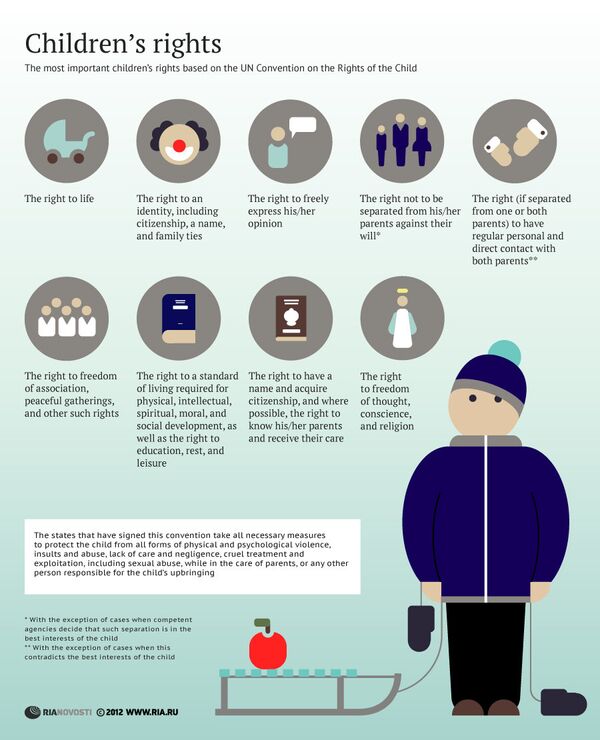 Children's rights
The news of Max Shatto's death came just weeks after Russia enacted a ban on Americans adopting Russian children, in part because of concerns about previous deaths of adopted Russian children. At least 20 adopted Russian children have died in the care of their American families since the early 1990s.
But the ban is also widely seen as a response to Washington's passage of the Magnitsky Act, introducing sanctions on Russian officials suspected of human rights abuses.
More than 150 members of the US Congress have urged President Barack Obama to prioritize resolving several hundred pending US adoptions of Russian children when he meets President Vladimir Putin later this month.