MOSCOW, June 6 (RIA Novosti) – Russia and Macedonia agreed on Thursday to collaborate in the fight against drugs for the next three years, Russia's drug enforcement agency said.
A bilateral join action plan was signed on the sidelines of the 30th annual International Drug Enforcement Conference (IDEC) in Moscow by Russia's Federal Drug Control Service (FSNK) and Macedonia's Interior Ministry.
The parties will exchange information on drug trafficking, coordinate and implement search and enforcement operations and share expertise, the FSNK said in a statement.
The document was signed by FSNK deputy director Oleg Safonov and Macedonia's Interior Minister Gordana Jankulovska.
The three-day IDEC opened in Moscow on Wednesday, bringing together drug law enforcement officials from more than 100 countries.
Established in 1983, IDEC focuses on issues such as global drug trafficking organizations, precursor chemical control, the connection between drugs and terrorism, financial facilitators and intelligence sharing across multinational law enforcement agencies. Russia has been an IDEC member since 2006.
© Sputnik
Global Drug Trafficking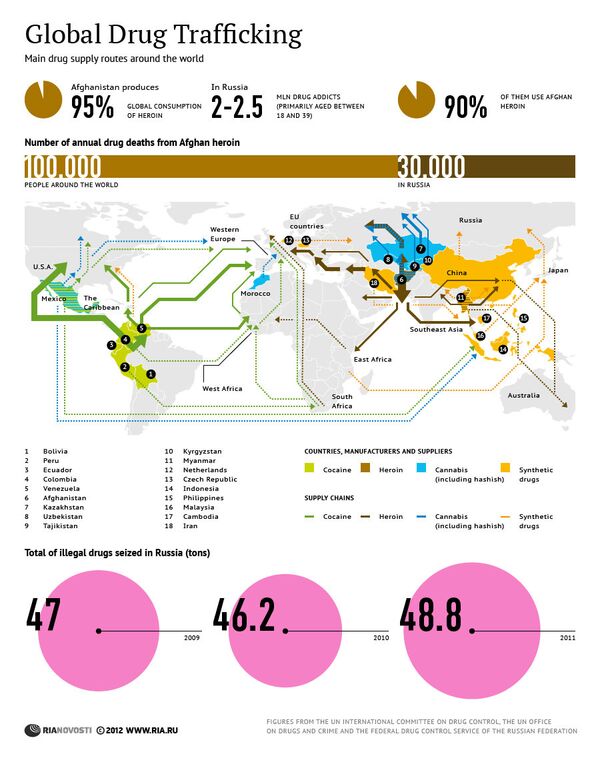 Global Drug Trafficking