MOSCOW, June 7 (RIA Novosti) – A Moscow court has given a four-year suspended sentence to the last defendant in the criminal case over deliveries of low-quality equipment for MiG-29 fighters that were rejected by Algeria in 2007, Russia's business daily Kommersant said Friday.
The Moscow city court announced the sentencing for Mikael Kazaryan at a closed session on Thursday. The suspended sentence is a result of a plea bargain between the defendant and the prosecutors.
Criminal charges against Kazaryan, former general director of the Rezon company that sold the MiG Aircraft Corporation outdated equipment using forged certificates and tags, were brought in 2012 as part of a broader case involving several MiG officials and businessmen.
© RIA Novosti
MiG: between Past and Future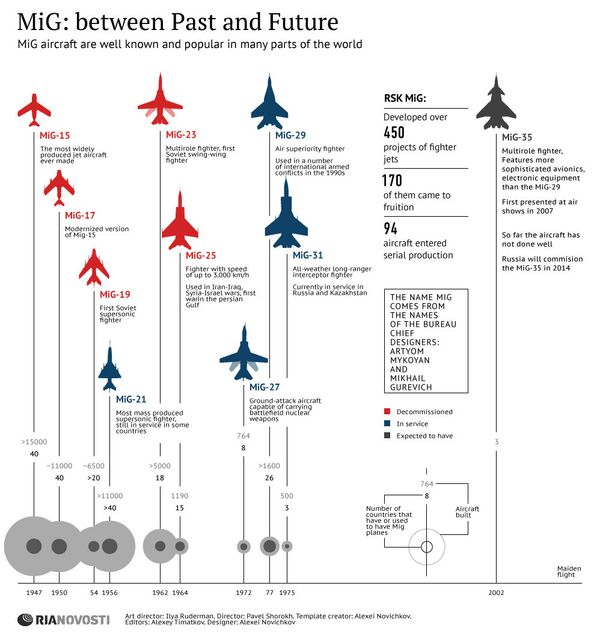 MiG: between Past and Future
Russia's state arms exporter Rosoboronexport signed a $1.3 bln contract to deliver 28 one-seater MiG-29SMT fighters and six two-seater MiG-29UB combat trainers to Algeria in March 2006 as part of an $8 billion military cooperation agreement.
However, after receiving 15 MiG fighters, Algeria refused further deliveries in May 2007. It then froze all payments under contracts with Russia in October 2007, requiring that Moscow first take back the 15 MiG-29s due to their "inferior quality."
Three Russian businessmen involved in the MiG-29 fraud were convicted by a Moscow court in May, 2012. One of them was sentenced to a 5-year prison term and the other two received hefty fines.
A year earlier, Musail Ismailov, the head of the Aviaremsnab company that supplied MiG with faulty parts, was sentenced to two years in prison while serving a 5.5-year sentence for a fraud involving deliveries of inferior quality equipment to the Polish air force.
A criminal case against former first deputy director general of the MiG Aircraft Corporation Sergei Tsivilev and his deputy, Oleg Fadeyev, was closed in December 2012 as its statute of limitations period had expired.