KHABAROVSK, June 9 (RIA Novosti) – Five bodies recovered on the site of Thursday's Mi-8 helicopter crash in a mountainous region of far-eastern Russia were taken to a morgue in Khabarovsk on Sunday, an emergencies service spokesman said.
The MI-8 helicopter, which belonged to Russia's Voluntary Association of Assistance to the Army, Air Force and Navy (DOSAAF), went missing on Thursday The aircraft was carrying four crewmembers and one passenger. Its wreckage was located on Saturday morning. The cause of the crash is unknown.
"The bodies of the victims were taken to a morgue in Khabarovsk early on Sunday. Investigators are now charged with identification and forensic tests," the source said.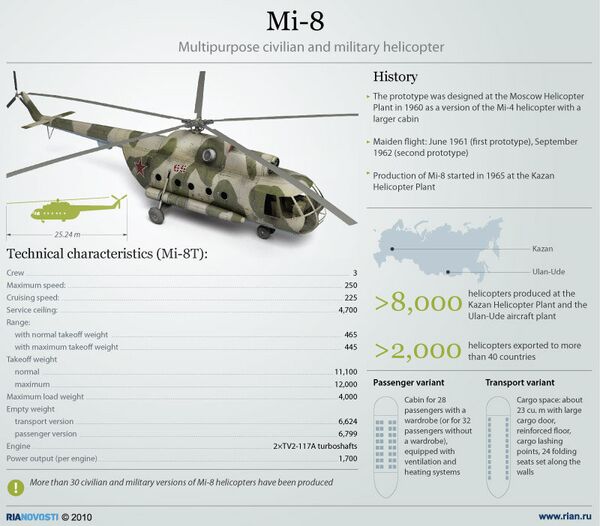 Mi-8 helicopter
This is the fourth deadly crash of this type of aircraft in Russia this year.
In the most recent accident, a Mi-8T helicopter, owned by an Air Force training center crashed while performing a scheduled training flight in the Volga Area in late May. The aircraft's pilot in command and his trainee, who parachuted before the helicopter crashed, survived. The third crew member, a flight engineer, was unable to leave the cockpit and died.
The Russian defense ministry grounded all its Mi-8 helicopters after the accident.