NOVOKUZNETSK, June 19 (RIA Novosti) – A moderate earthquake struck southwest Siberia's Kemerovo Region, one of the country's coal mining heartlands early on Wednesday, local officials said, temporarily bringing underground coal production to a standstill.
Regional Governor Aman Tuleyev has ordered all work at underground mines in the Kemerovo Region, part of Russia's Kuzbass coal-producing heartland, to be suspended.
The US Geological Service says it registered a strong 5.3-magnitude earthquake. Russia's Emergencies Situations Ministry estimated the earthquake to be magnitude 4.3.
The quake destroyed more than 500 houses in the village of Bachatsky, home to 16,000 people, when it struck at around 3 a.m. Moscow time at a depth of 9.8 kilometers. "The nature of the tremors is being clarified, the epicenter is yet unknown," a local emergencies spokesman said.
"Some houses are heavily damaged, some suffered less damage. The most affected are the houses where the ceilings and walls have collapsed," a local administration spokesman said.
Tremors were felt near Novosibirsk, Russia's third-largest city, and also in the Altai Republic in southwest Siberia. There have been no reports of casualties or injuries.
© Sputnik
What causes earthquakes?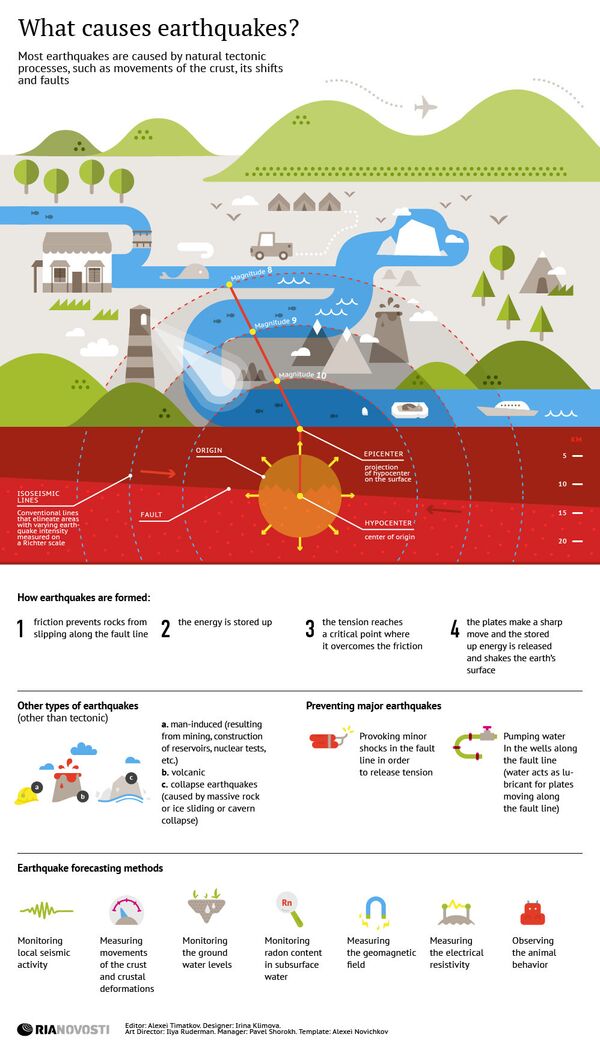 What causes earthquakes?
In February, magnitude 4.4 tremors were registered in the Bachatsky village at a depth of 20 kilometers. Local emergencies officials later said they could have been caused by a blast at a local open-cast coal mine.