CHEBARKUL, June 22 (RIA Novosti) - A huge fragment of meteorite that slammed into Russia's Urals region in February was located on the bottom of Chebarkul Lake in the Chelyabinsk Region, a scientist said on Friday.
On February 15, a meteorite landed with a massive boom that blew out windows and damaged thousands of buildings around the Urals city of Chelyabinsk, injuring 1,200 people in the area.
© RIA Novosti
Meteorite Fragments Hit Russia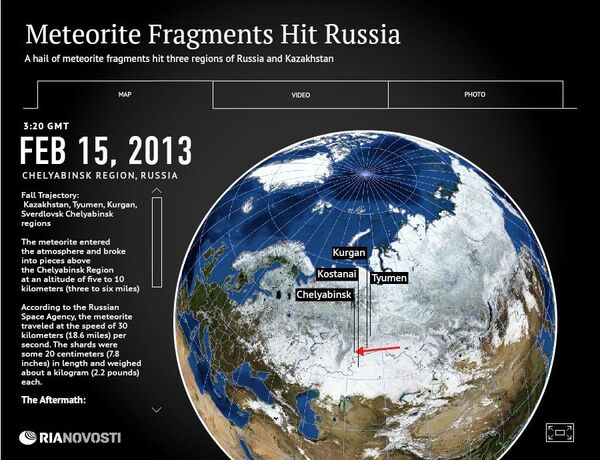 Meteorite Fragments Hit Russia
The meteorite broke into approximately seven large fragments and one of them is believed to have fallen into Chebarkul Lake, forming a hole in the ice about eight meters in diameter. In late March, a radar probe of the bottom of the lake has revealed a crater possibly created by a fragment of a meteorite.
Viktor Grokhovsky, a senior researcher with the Urals Federal University was among scientists who measured the magnetic field in the area where a meteorite chunk has presumably fallen. He said that the measurements indicated that an object, most likely a meteorite fragment about 60 centimeters (about two feet) in diameter and weighting approximately 300 kilograms (over 661 lbs), is lying on the bottom of the Chebarkul Lake.
He added that an eyewitness caught on camera how the meteorite exploded above the lake and apparently crashed through the ice, sending a massive jet of water into the air.
"[If] we have [meteorite-like] substance, we have a hole in the ice and a jet of water which was observed shortly after the explosion, what other proofs are needed? The [meteorite] fall, followed by a jet of water was caught on camera," he said.
The head of the Chebarkul urban area administration, Andrei Orlov, told journalists that sonar scans in the same area have shown an unidentified object measuring up to six meters (about 20 feet) in diameter at the bottom of the lake.